What is a Parsnip? (And How to Cook It) Recipe
Learn how to cook parsnips! Closely related to carrots, this humble root vegetable has a sweet, nutty flavor. It's delicious roasted, mashed, and more.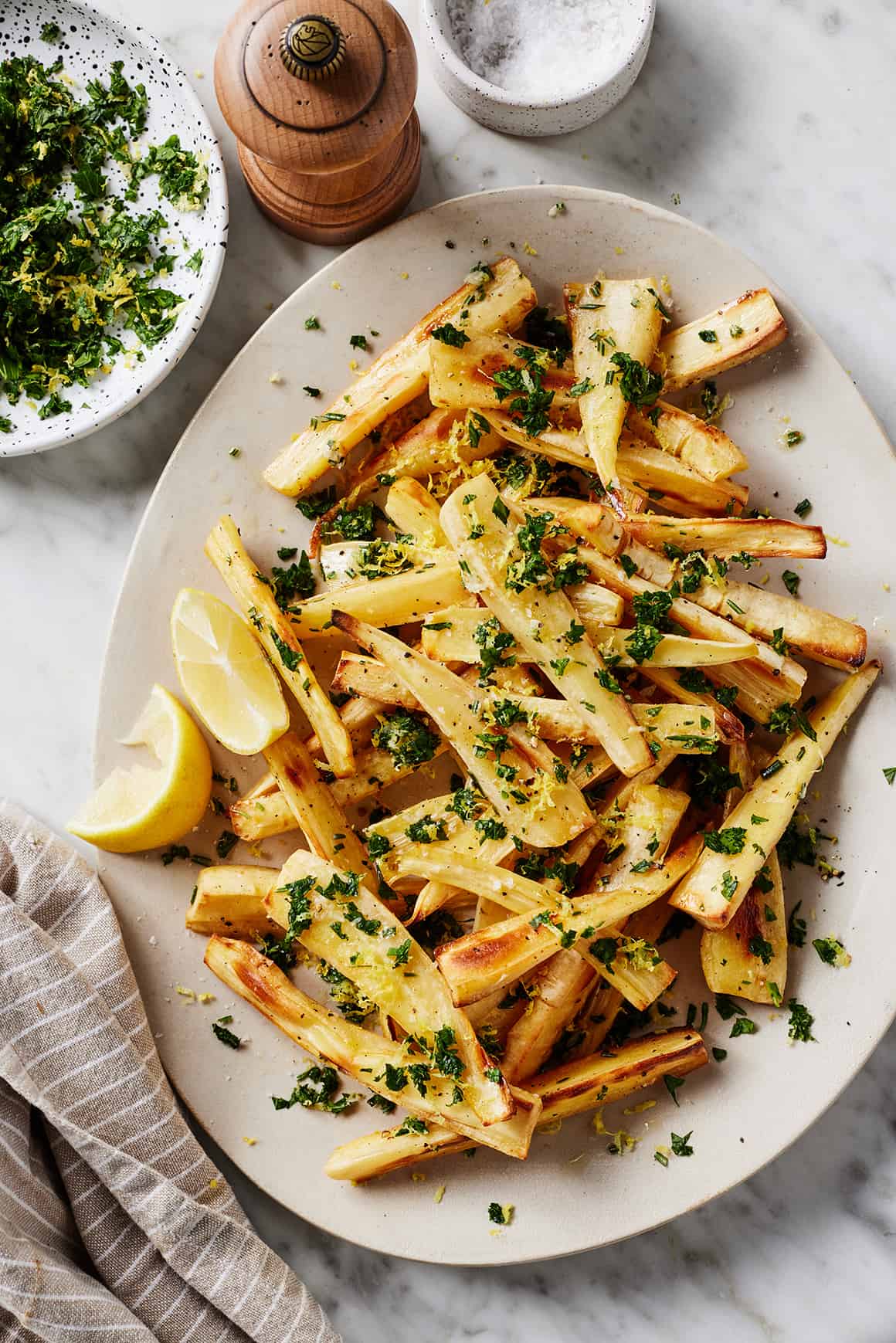 The humble parsnip is one of the most underrated vegetables. It's cheap, versatile, easy to work with, and PACKED with flavor…but most of us cook it rarely, if at all.
I think it's time parsnips got a lot more love, so I'm sharing my complete guide to them below. You'll learn how to cook them, how to store them, and find my favorite parsnip recipes. I hope you'll give this tasty root vegetable a chance!
What is a parsnip?
A parsnip is a pale, tapered root vegetable that resembles a white carrot. The resemblance makes sense, because parsnips and carrots are cousins. They're both members of the Apiaceae family, along with fennel, parsley, celery, and more.
What do parsnips taste like?
Parsnips have a starchy texture and sweet, nutty, and earthy flavor.
Fun fact: Unlike many crops, parsnips benefit from cold temperatures while they're in the ground. A cold snap converts the roots' starches to sugars, making them sweeter.
Though parsnips are widely available throughout the fall and winter, the sweetest ones are harvested in spring. These have been overwintered (left in the ground during the winter), so they are high in natural sugars.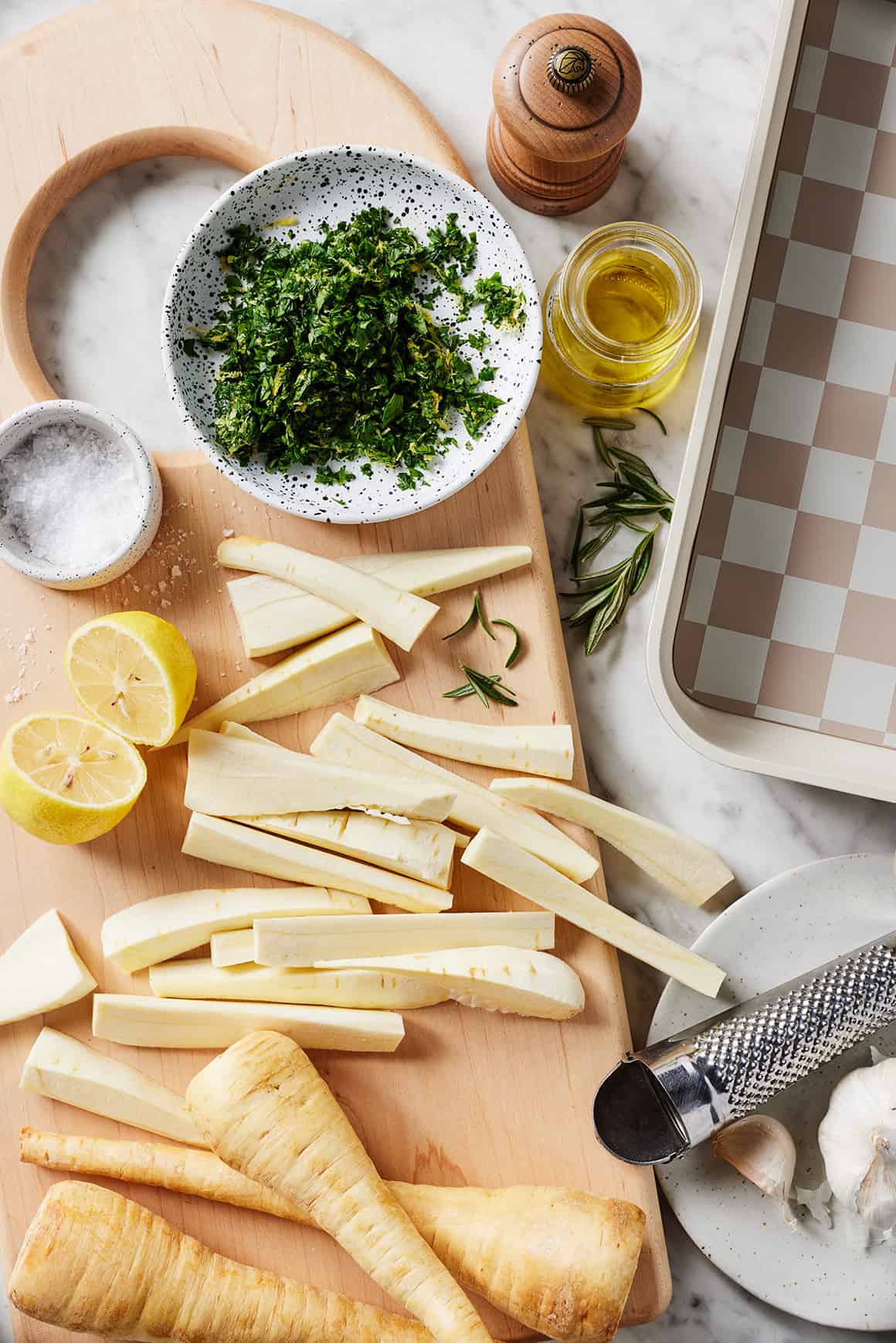 How to Cook Parsnips
There are so many ways to cook this versatile root veggie! I enjoy
adding it to soups and stews,
boiling and mashing it,
shaving it for salads,
and using it in desserts (think carrot cake, but with parsnips).
But my favorite method for how to cook parsnips is roasting. Here's how to do it:
Start with 1 1/2 pounds parsnips. Look for ones that are small to medium in size, as large parsnips often have a tough woody core. They should be firm, not flimsy, and free of any soft or browned spots.
Next, chop them. No need to peel! The most flavorful part is right under the skin, so peeling can strip away flavor. Instead, give each root a good scrub and cut the parsnips into 1/2-inch-thick matchsticks.
Then, season them. Place the veggies on a baking sheet lined with parchment paper. Drizzle them generously with olive oil and sprinkle with salt and pepper. Toss to coat and spread in an even layer on the pan.
Roast in a 425°F oven for 30 to 40 minutes, or until tender and browned.
You could stop there, but a simple dressing really takes this recipe over the top!
While they're still warm, toss the roasted roots with a simple mix of olive oil, garlic, and fresh rosemary. Add a squeeze of fresh lemon juice and a sprinkle of gremolata (or chopped parsley), and toss again. Season to taste and serve!
Find the complete recipe with measurements below.
Storage
Store the roasted veggies in an airtight container in the refrigerator for up to 3 days. Reheat in the microwave or a 350°F oven.
Store fresh parsnips in the fridge for up to 3 weeks. They keep best wrapped in a towel or a plastic bag.
Favorite Parsnip Recipes
Looking for more ways to cook this flavorful veggie? We love these easy recipes:
And if you want more easy veggie sides, try these roasted Brussels sprouts, baked sweet potatoes, or roasted vegetables next.
Roasted Parsnips
Serves 4
This recipe is one of our favorite cooking methods for parsnips! They come out perfectly tender with crisp, golden brown edges. Lemon juice, fresh herbs, and garlic take this easy side dish over the top.
Prevent your screen from going dark
Preheat the oven to 425°F and line a baking sheet with parchment paper.

Place the parsnips on the baking sheet. Drizzle generously with olive oil and sprinkle with salt and pepper. Toss to coat and spread evenly on the baking sheet. Roast for 30 to 40 minutes, or until tender and browned around the edges.

In a large bowl, whisk together the olive oil, rosemary, and garlic. Add the parsnips and toss to coat. Add the gremolata and lemon juice and toss again. Season to taste and serve.
Sources used for this article: Six Seasons by Joshua McFadden; Johnny's Selected Seeds
title_words_as_hashtags], 1700585870