Visiting Riad Tile in Dallas for Black and White Kitchen Flooring…
Join me to tour the beautiful Riad Tile Dallas, Texas Showroom to pick out a perfect Black and White Tile in square checker pattern for our rustic modern kitchen remodel…
Watch our visit to Riad Tile in Dallas, Texas…
The Riad Tile Showroom
Riad Tile has a ton of Zelliage, Cement, and Marble tiles to choose from…
On this specific trip, I was looking for a black and white kitchen floor design so I popped over to the Dallas, Texas Showroom in the Design District…
See this kitchen transformation unfold… follow @sipbitego on Instagram for more kitchen remodel updates.
Riad Tile Black and White Marble
I haven't been able to find compatable mix and match black and white tile for a kitchen floor in many of the traditional tile shops…
So I was delighted when the Riad Tile Instagram started posting this combination I've been envisioning in my head…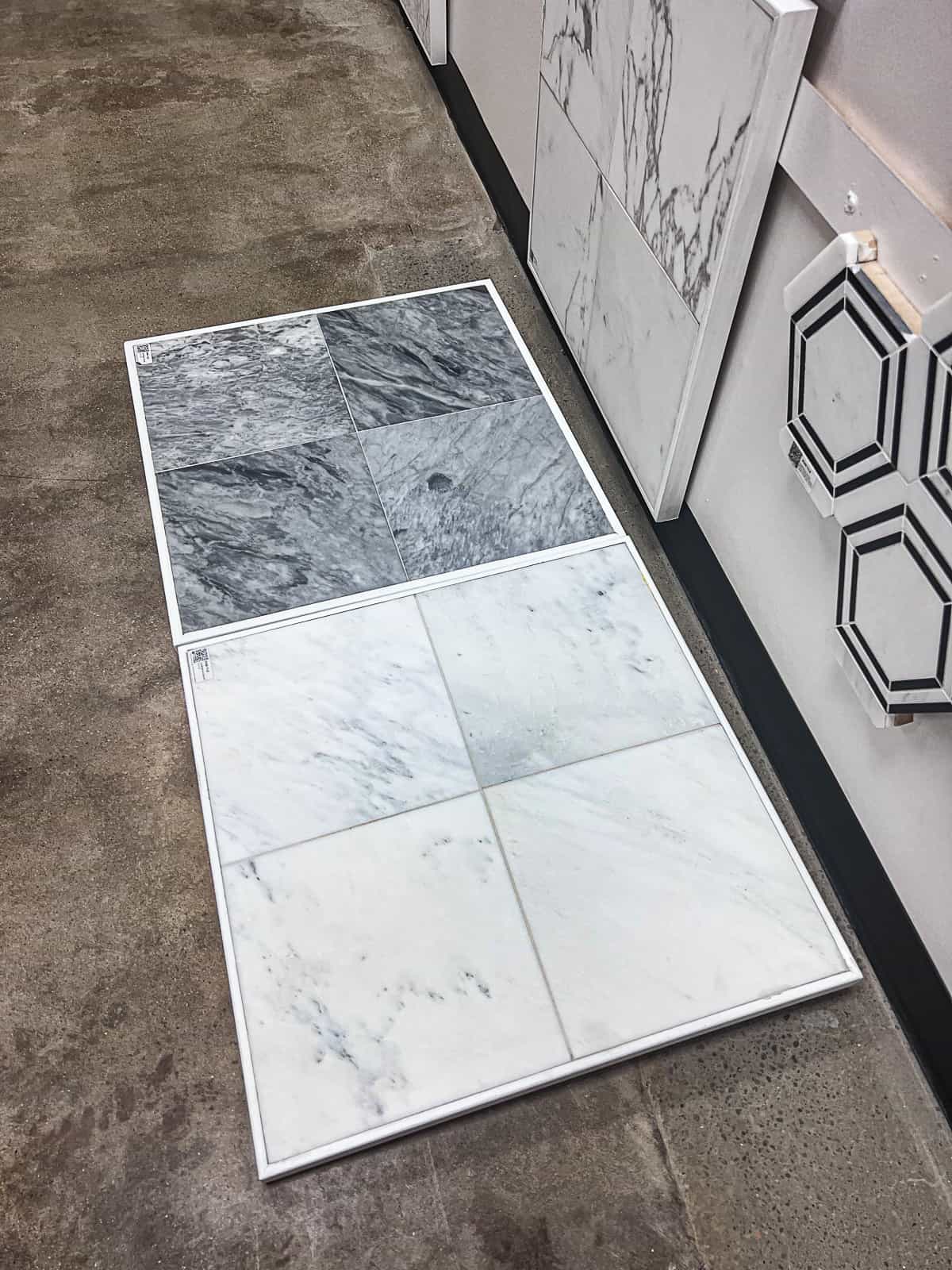 Here is a close look at the ones I chose…
First, the white Riad Tile Marble in Casablanca Carrara…
And then the grey marble tile in Bardiglio Grey…
It felt nice to make a decision for flooring for our black and white kitchen, but wow – I really wanted all the colorful tiles in the showroom, too…
This is another great black and white tile they have…
Which I'd love to find a reason to use in another home design project.
Riad Tile's Zellige Tile and Cement Tile
At some point, I might revisit Riad Tile to pick up some Zellige tile for my fireplace, coffee area, BBQ nook or bathroom / powder room updates…
Until then, I'll be here waiting for inspiration to hit, and you can find me @sipbitego on Instagram with kitchen remodel updates.
Tile samples
It was so lovely for Riad Tile to offer tile samples, which I've been using to coordinate Cambria Quartz countertops in Sutherland…
And have even brought to appliance shops to see how well it goes with white and black appliances to complete the kitchen design…
Here's a peak at their cute showroom…
Follow for the black and white kitchen redesign series…
Hey home chef, hope that answers all your questions about what it's like to visit the Riad Tile Dallas Showroom. 
Enjoy cooking and chat soon on Instagram / TikTok / YouTube.
– Jenna
Next, browse the Sip Bite Go recipe collection…
More popular home design guides and tips…

title_words_as_hashtags], 1696707565