Triana Tapas & Flamenco Restaurant (San Juan)
Check out this yummy Old San Juan tapas restaurant…. Triana Tapas & Flamenco is a must-try restaurant in Puerto Rico if you love a fun ambiance (flamenco dancing and live guitar music) and delicious graze-worthy bites on things like mofongo, croquettes, seafood dishes, and more…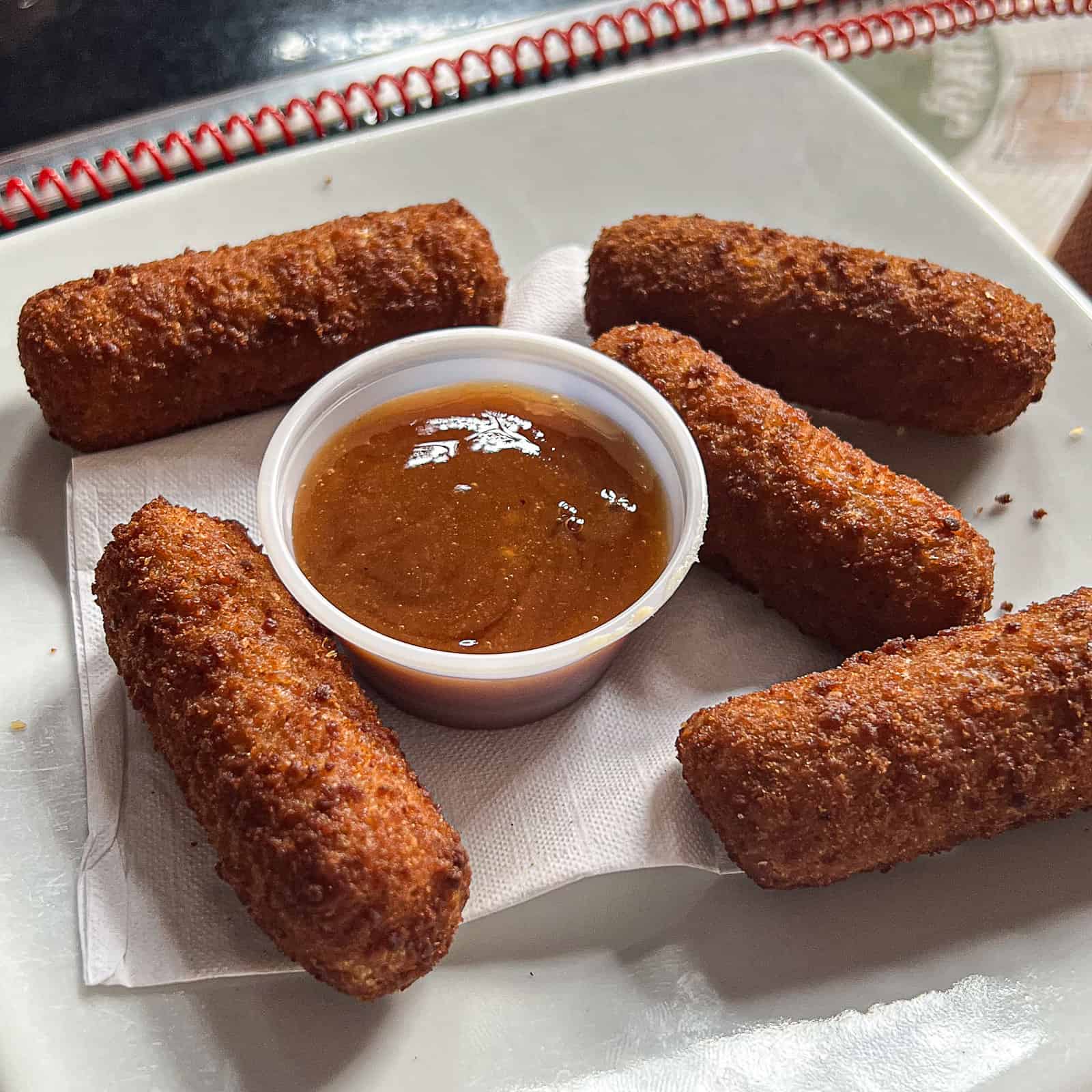 Get tips for traveling to San Juan, Puerto Rico in this new series of NEW Sip Bite Go travel blogger guides. Thanks to Puerto Rico for providing some of the activities in this guide for review. All options are my own.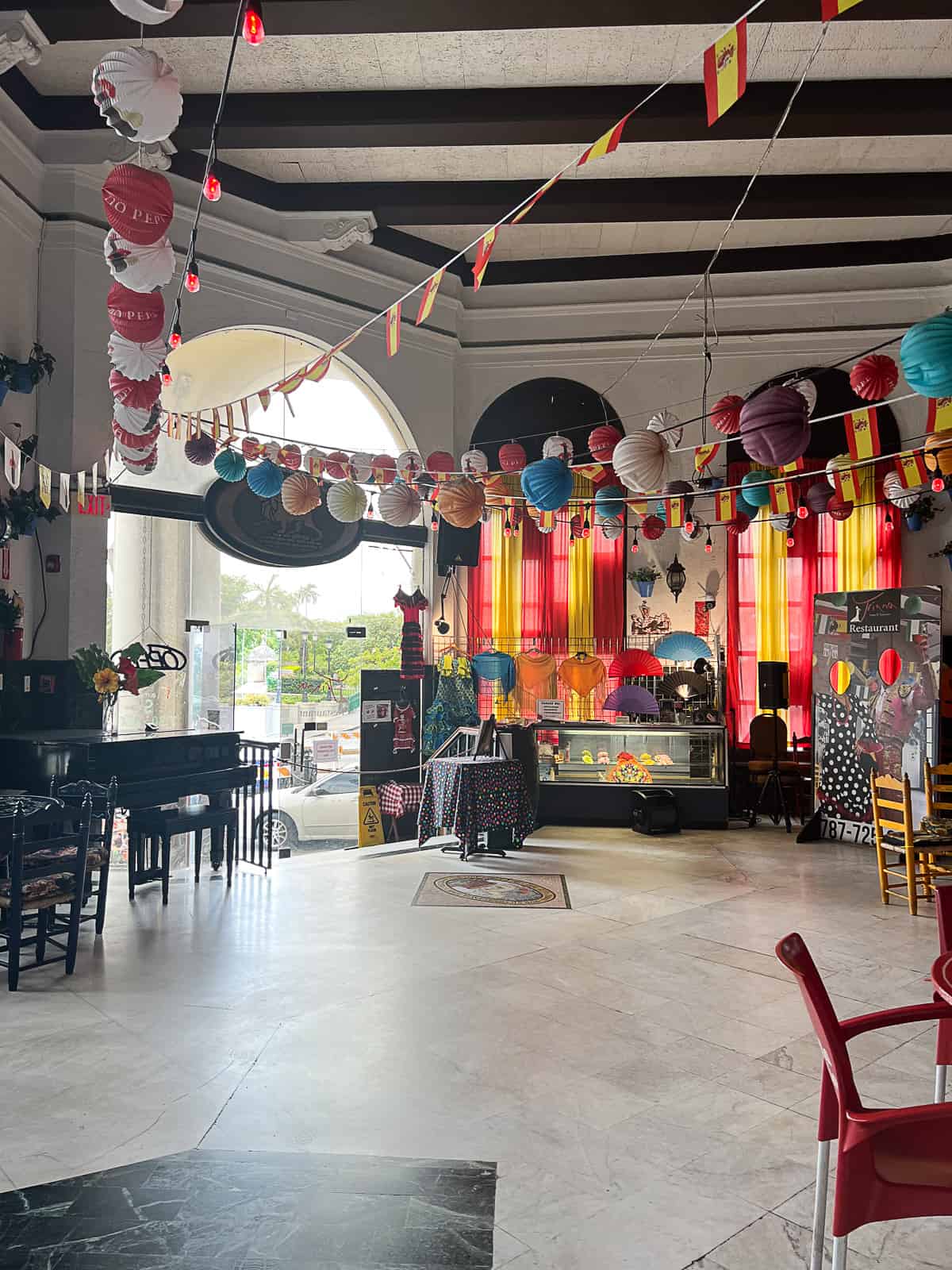 Follow Sip Bite Go on Instagram and TikTok for more food and Puerto Rico travel tips…
This would be a quick and easy stop if you are just in town for the weekend or visiting the island on a cruise ship for the day.
Menu dining experience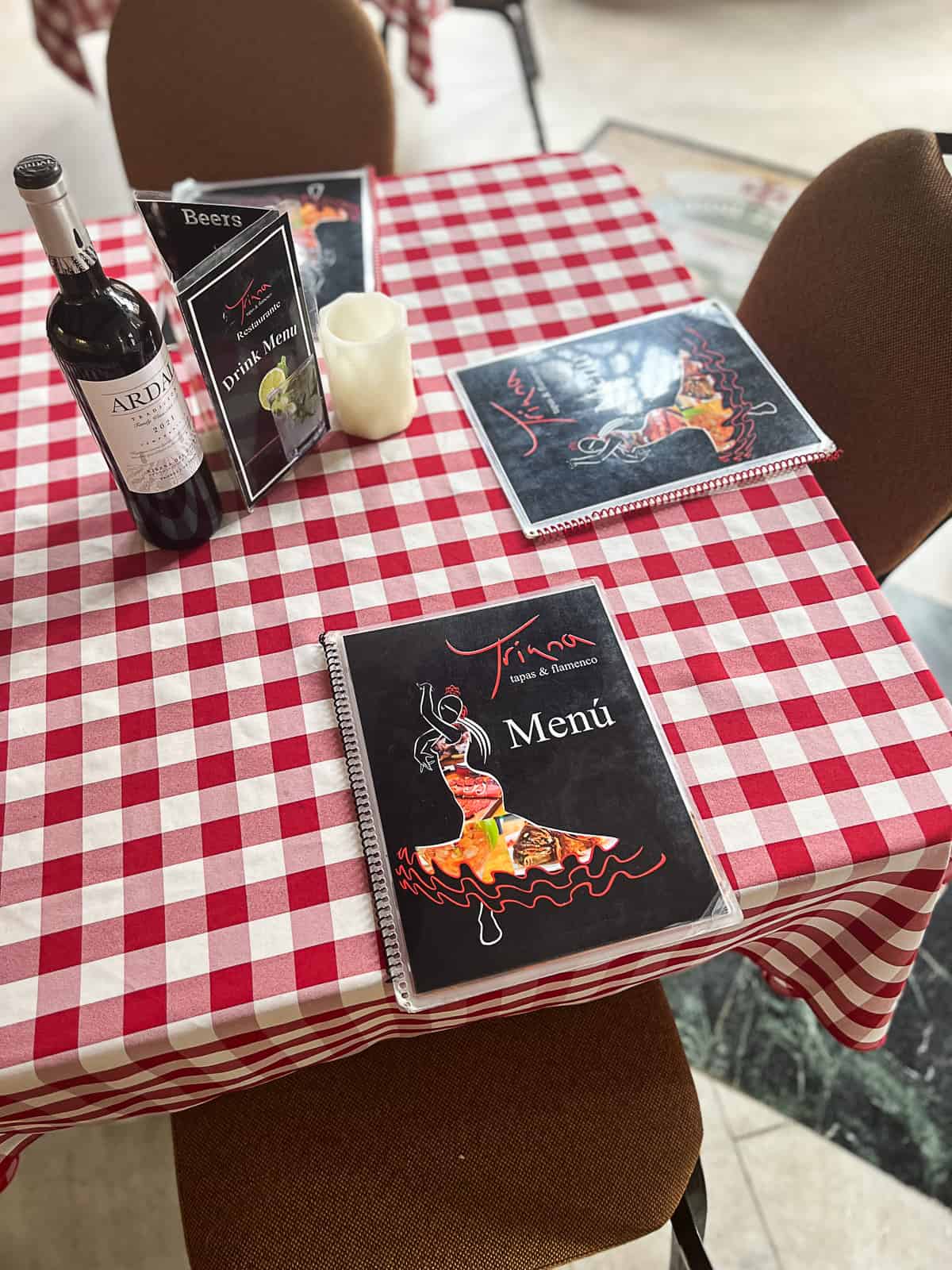 We stopped in for a quick bite to eat.
I got an order of vegetables, which were delicious but somehow I missed photos of…
And some crispy yummy fries for the kiddo…
Drinks for adults (they have a lot of beers and wines on the menu)…
And some yummy ham croquettes for the table…
Ambiance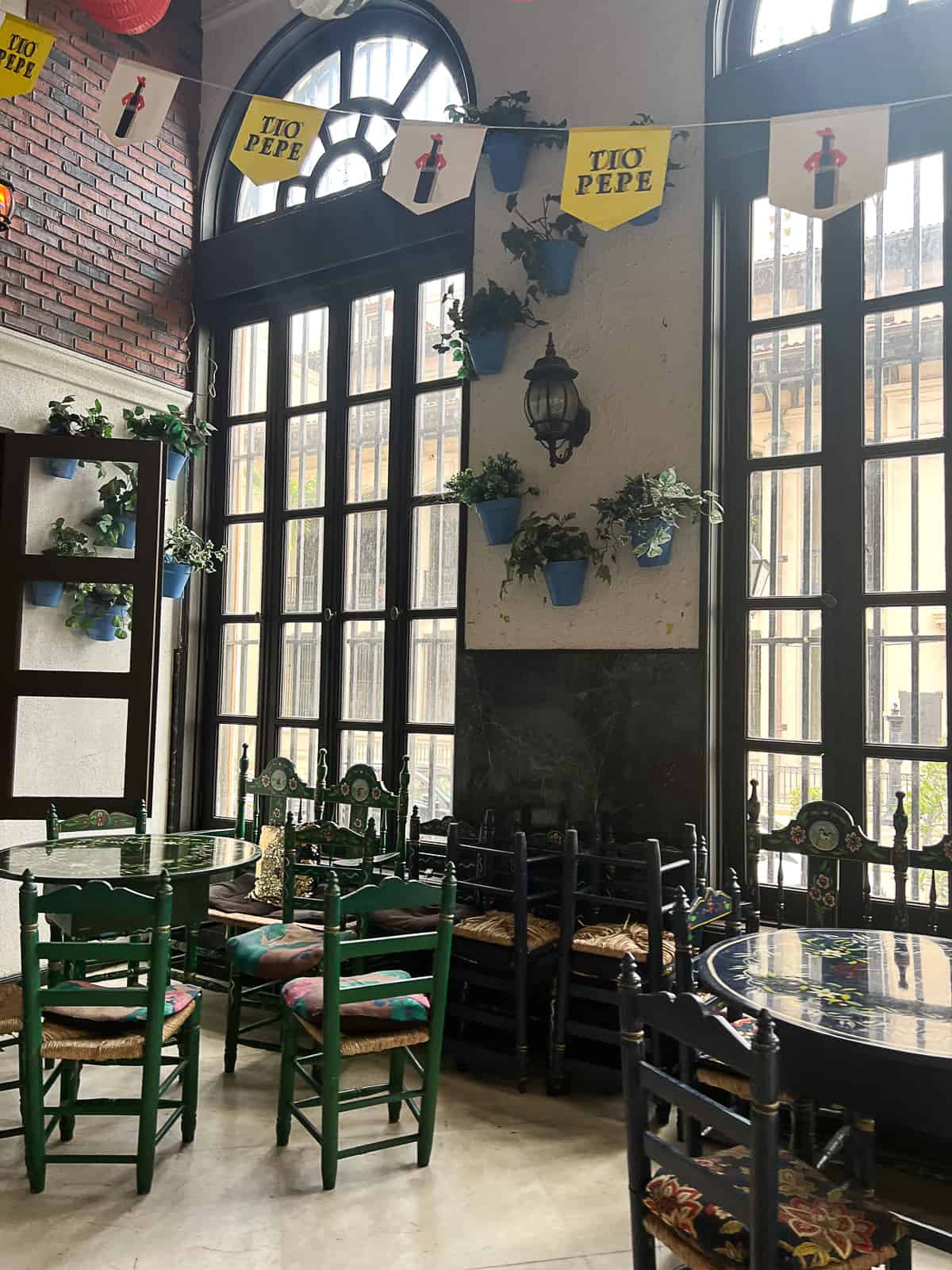 This is a place to come enjoy a few ​​"Spanish" tapas…
Or try a yummy Puerto Rican dish like mofongo (mashed plantains)…
And enjoy a crisp white sangria or beer in a frosty bottle.
A foodies review of​​ Triana Tapas 
We visited Triana Tapas & Flamenco in the afternoon, right when it opened, and that was perfect for a family looking for cold drinks and a small bite to eat.
Can't recommend it enough as a great spot to catch a break from a warm San Juan afternoon.
My kiddo who's *pretty much* out of the stroller phase (read: we didn't bring one to San Juan) had a full-on nap the moment we arrived!
I think all the cobblestone streets and outdoor playground we discovered wiped him out.
And the staff at this restaurant couldn't be any more kind about it… one actually set up 3 chairs in a row and laid down clean table linens so he could sleep…
I, myself, almost wanted to take a nap there, because the AC was perfect and we had just visited an outdoor workout area.
But, if you can relate, my kiddo pretty much *never* does a sleep transfer successfully… 
And so he woke up and joined us for a chilled lemonade, crispy and creamy croquettes, and perfectly cooked french fries.
More Triana Tapas & Flamenco food pics…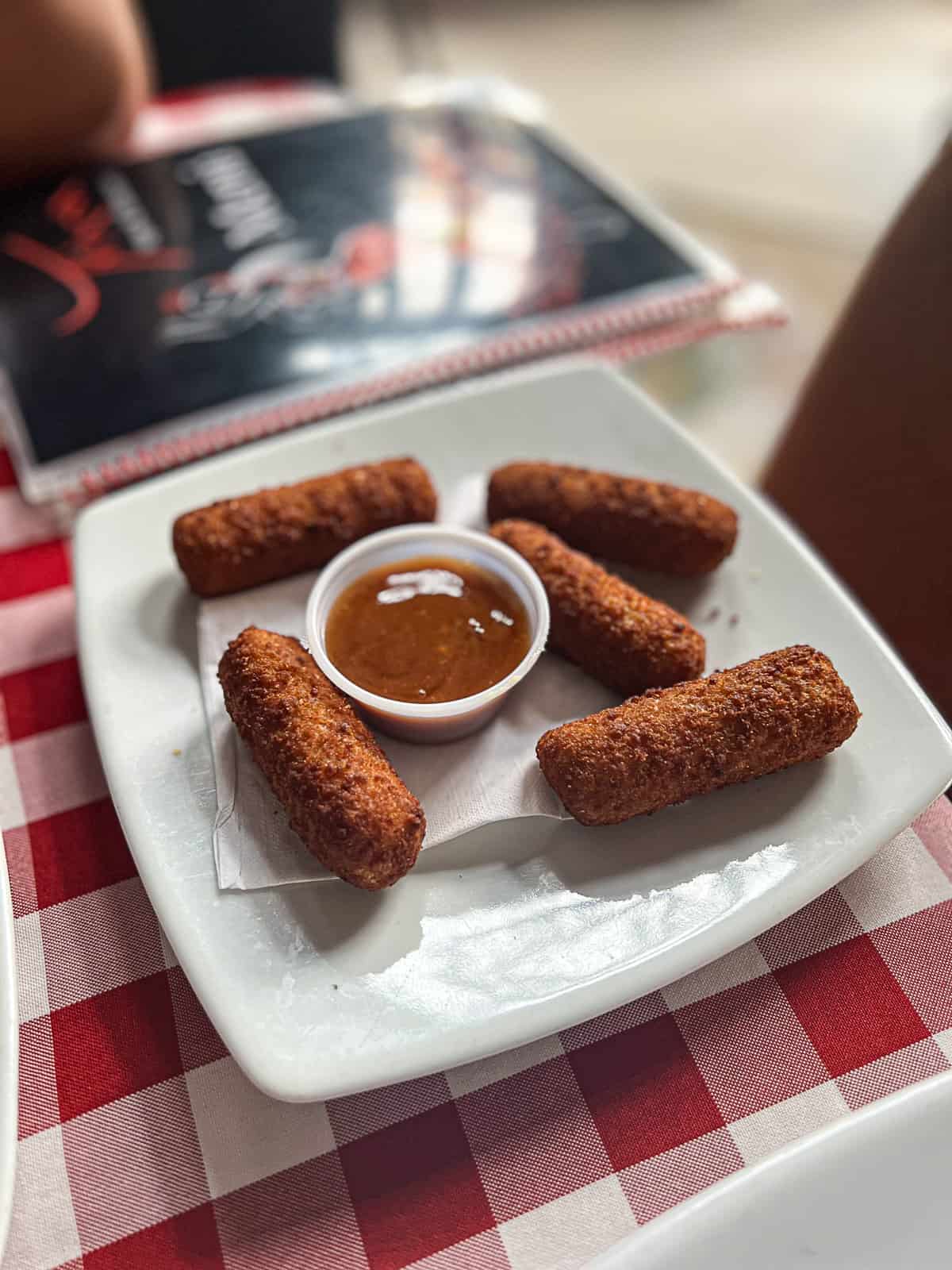 I hope to be back soon to get more photos for this review of Triana Tapas restaurant.
Here are some more popular items to check out: 
Fish and seafood (ceviche, lobster, grouper, mahi mahi)
Mofongo (mashed plantains with chicken, steak, or crab)
Croquettes (choice of ham, chicken, or codfish)
Entertainment at night
Check the schedule to see live music from the guitarist and flamenco show dancing at Triana Tapas & Flamenco.
Location of Triana Tapas and Flamenco
It's in an area called Viejo San Juan, right near a lot of other attractions and things to do.
Some buildings in this area date back to the ​​16th century.
Triana Tapas and Flamenco is located close to a few of my favorite things to do in San Juan with a family…
Nearby this Calle Del Recinto Sur area, closer to the water, you can explore open-air market shopping, pick up a Ferry, or visit our favorite ​​Old San Juan playground.
There are also ice cream shops, other places to grab happy hour drinks and food, and coffee shops nearby.
Best Puerto Rico travel guides on Sip Bite Go…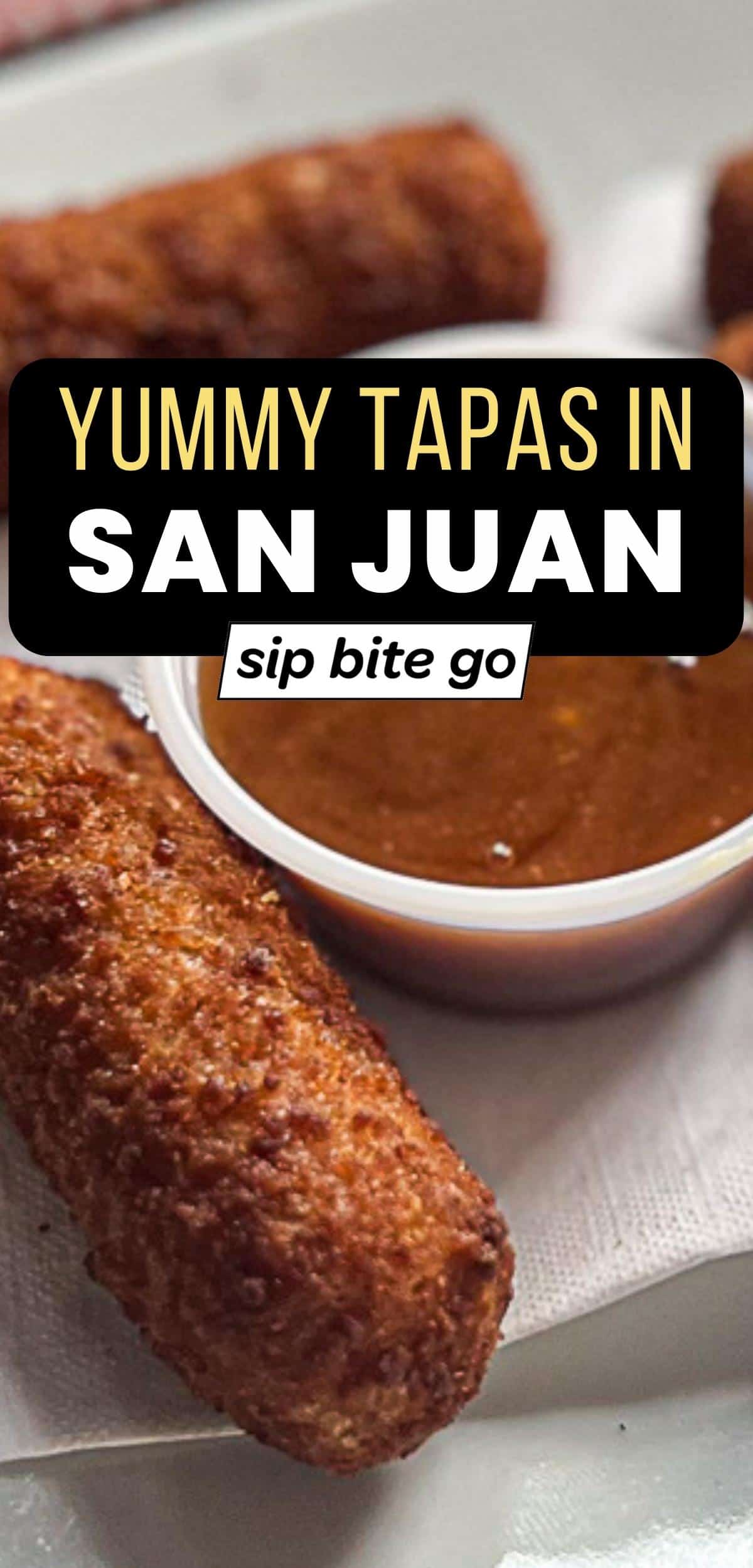 Are you a traveling foodie, too?
Hey there – hope that answers all your questions about visiting this tourist destination on La Placita. 
Enjoy your travels and chat soon on Instagram / TikTok / YouTube.
– Jenna
Next, browse the Sip Bite Go recipe collection…

title_words_as_hashtags], 1687983336