October In Asheville: Your Guide To Fall 2023
October is the absolute perfect time to visit Asheville. The leaves generally start changing toward the end of September and by mid-October fall is in full swing. The city is packed with tourists, the mountains are changing colors and there are a ton of fun things to do to enjoy autumn here.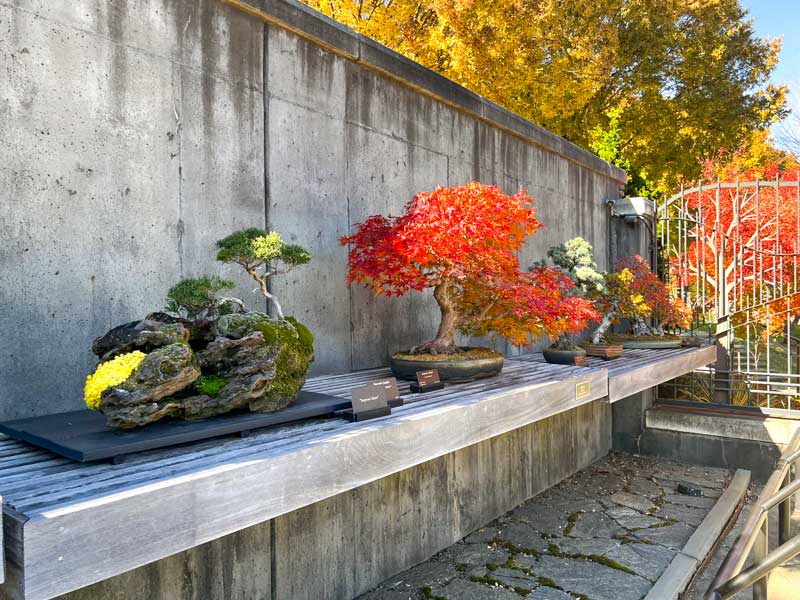 This article shares ideas for how to enjoy October in Asheville, from fall festivals to apple orchards, fun ways to tour the city and even a few spooky ideas. But first, let's talk about fall foliage!
If you haven't booked a hotel yet, check out our guide to the best hotels in Asheville! It shares our top picks for where to stay and why.
Asheville Fall Foliage In October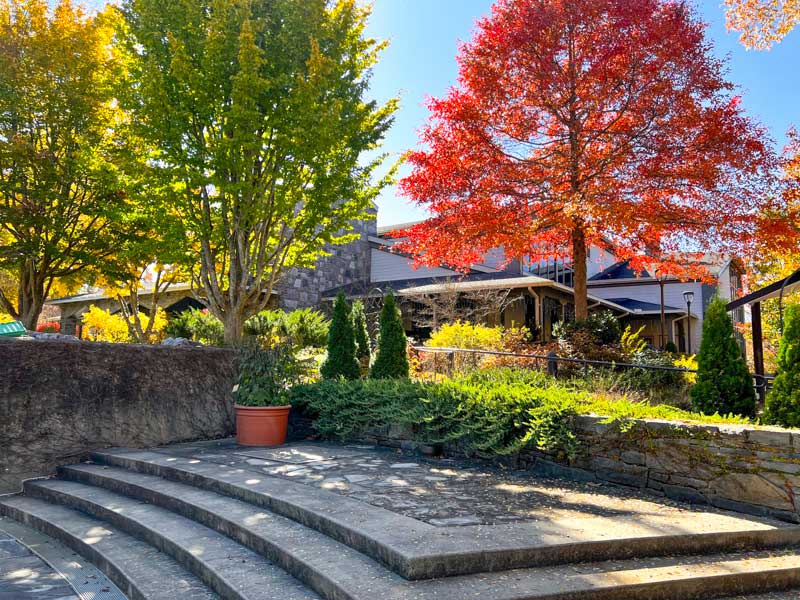 Peak leaf season in Asheville is typically in mid-October. We always tell people to plan a visit to Asheville between October 15th and 25th to see the colors. It's important to keep in mind, though, that fall foliage timing, intensity and duration are heavily dependent on weather and elevation.
So, it may happen sooner or later depending on the amount of rain we are getting (or not getting) and what the temperatures are.
Also, higher elevations peak sooner. Some areas may already be past their peak colors while others haven't even started yet. We like to use social media to keep track of where the fall colors are.
If you want to see some pretty interesting fall foliage, don't miss the bonsai exhibit at the NC Arboretum. The bonsai trees put on a remarkable display of color mid-October.
Awesome Tours For Fall In Asheville
There are several fun ways to see the sights of Asheville in October. Below are a few of our top picks!
One of our top recommendations for exploring Asheville this fall is the Asheville Hop-on Hop-off Trolley Tour. The trolley tour is a great way to see Asheville sights at your own speed, plus you don't need to worry about parking. It's especially fun if it's your first trip to Asheville.
The trolley stops at all the major highlights in Asheville including Montford, Grove Park Inn, Downtown Asheville, River Arts District and Biltmore Village. Don't worry if that sounds like a lot to do in a day — the trolley ticket is good for two days for unlimited hop-on/hop-off privileges so you can keep exploring.
Guided Electric Bike Tour In Asheville
For a comprehensive tour of Asheville's sights, join a guided e-bike tour led by experienced guides from The Flying Bike.
From the River Arts District to downtown, Montford, and the Grove Park Inn, you'll pedal past Asheville's best attractions and learn about the city's rich history, culture and architecture. It's a great way to explore the city.
The electric assist makes it easy to cover ground, so you can enjoy the ride without getting worn out. It's a family-friendly tour, too! Older kids can ride their own bikes and younger kids can ride on cargo bikes.
Take An Asheville Food Tour
No matter the season, any list of things to do in Asheville is incomplete without checking out the epic restaurant scene. And what better way to do it than with a local guide!
If you love food, be sure to check out one of Asheville's amazing food tours. It's a great way to get to try some of the best that Asheville has to offer curated by local food experts.
October is a great time to go on tour of local Asheville breweries with the Damn Good Beer Bus. After all, Asheville (aka Beer City) is home to a staggering number of breweries all striving to brew the best tasting beers in town.
You can also check out the handful of breweries that offer tours of their facilities for a behind the scenes peek at beer production.
Spooky Things To Do This October In Asheville
If you're in the mood for a spooky activity (we are talking about October, after all!) the tours below are sure to give you a fright! Bonus points if you schedule one for Friday the 13th!
Go On A Comedy Bus Tour of Haunted Asheville
Walking Ghost Tour in Downtown Asheville
Asheville's night time walking ghost tour is a great way to see the city by night and hear a few spooky tales.
Led by an expert local guide, learn about the area's hair-raising tales and dark history, like the woman who haunts the Omni Grove Park Inn, the body entombed in the wall of the Basilica of St. Lawrence and more!
Go On A Haunted Pub Crawl
If you want to add a drink to your spooky tour of the town, check out the Asheville Terrors Boos and Brews Haunted Pub Crawl.
This spooky pub crawl will take you to four local bars as you walk around town and learn about Asheville's darker side. Tours meet at Wedge Brewery in downtown Asheville and take you by foot around downtown Asheville.
Explore The Blue Ridge Mountains
Now on to the real reason everyone is in Asheville in October — leaves! The Blue Ridge Mountains are ablaze with color in October, making it one of the most visited regions on the East Coast during fall. Here are a few of our favorite ways to check out the fall colors in the Blue Ridge Mountains.
Take a guided tour with Asheville Jeep Tours
With their custom Jeeps that look like safari vehicles, Asheville Jeep Tours offers a really fun way to tour the Blue Ridge Mountains.
They will take you through the little known roads and paths in the mountains near Asheville, showing you some of the most stunning views around.
Asheville Jeep Tours offers a fall colors tour to make the most of the season. Children ages 5 and older can ride in the Jeep– you'll need to bring your own car seat, though.
Asheville Helicopter Tour
Drive the Blue Ridge Parkway
The Blue Ridge Parkway is a can't-miss attraction when visiting Asheville, especially during leaf season. The Parkway cuts right through Asheville, so you can either take it south through the Ranger District of Pisgah National Forest or north toward Blowing Rock.
It can get really busy in October during the leaf-peeping season. But it's especially beautiful during this time.
If you are looking to make it a day, check out our Blue Ridge Parkway day trip itinerary. It takes you by waterfalls and a ton of trails.
Other Outdoor Things To Do In October
Below are a few more ways to enjoy Asheville this fall, from a local apple orchard to the breathtaking Biltmore Estate.
Enjoy A Day At A Local Apple Orchard
A list of Asheville activities in fall would not be complete without a trip to an apple orchard. The area that surrounds Asheville is actually the heart of North Carolina apple country!
Most nearby apple orchards have apple cider donuts, opportunities to pick your own apples, wagon rides and more. Check out our guide to apple orchards in the Asheville area to find the right one for you!
Don't Miss Fall At The Biltmore
There is something especially magical about fall at the Biltmore Estate. You'll love strolling the gardens and admiring the leaves. And when you need to warm up, grab a latte from the ice cream shop.
They'll start decorating the Biltmore for Christmas toward the end of leaf season, and then it's an especially magical place.
Admire The Bonsai Garden At the Arboretum
If the thought of tiny trees with vibrant colors is exciting to you, you'll love the bonsai exhibit at the NC Arboretum. The bonsai trees change colors with the rest of the area and it's a spectacular sight!
Not only can you enjoy the small trees, but you can also take in the beauty of the Arboretum this fall. There are hiking trails and even an on-site café.
Fall Festivals in Asheville
Last and certainly not least, below are a few festivals and events this October in Asheville.
October 7, 2023: Oktoberfest at Pack Square
October 13-16, 2023: Craft Fair of the Southern Highlands (crafts, live demonstrations, live music)
October 14-15, 2023: Lovely Asheville Annual Fall Festival at Pack Square Tavern (music, food, poetry and more)
October 15, 2023: Burnpile at Burial Beer (annual music and beer festival)
October 21, 2023: Carolina CiderFest at McCormick Field
Disclaimer: Hours, pricing, menus, etc. may have changed since we last updated this post, so make sure to confirm all of this directly prior to visiting any business or attraction listed on our site.
This website contains affiliate links. As an Amazon Associate, I earn from qualifying purchases.
#October #Asheville #Guide #Fall, 1696355467