London's last traditional seafood stalls and where to find them
Not long after World War I, a man called Isaac Brenner started selling jellied eels on the street in Whitechapel. At some point, Brenner added a sign to his stall that said "Tubby Isaacs", presumably because he was plump and that was the nickname he'd earned. The sign was updated several times over the years, but never to include an apostrophe.
You can see the stall in action in this BBC programme from the 1970s. But the proprietor in the video isn't Brenner, it's Solomon "Solly" Gritzman, who adopted the Tubby persona after the original moved to America. Under Solly's ownership, the place began selling items from deeper waters too, such as whelks, cockles and lobster tails, like other seafood stands scattered across the capital. By the time it closed in 2013, Tubby Isaacs had been in business for 94 years.
But Londoners have been eating shellfish on the street for much longer than that. Roman sites are littered with oysters, as is Samuel Pepys's diary; you can almost hear the clamour of the city in Hogarth's The Shrimp Girl, which captures a seafood seller from three centuries ago. While this tradition has faded away in the years since, it hasn't disappeared yet. The stalls that are still around are uncomplicated spots, quietly preserving a native food culture that seems almost out of place in the modern city. Behind pubs, in marketplaces, London's open-air seafood stands remain where they've always been. Here's where to find them:
East Street Market Seafood Stall
There's plenty of ancient stalls on East Street Market in Walworth, but this one's particularly old, dating back to before the war. You'll find it at the top end of the market on Saturdays, recognisable by its red wheels and Union Jack bunting. The apparently nameless stall operates like a fishmonger for some shoppers, supplying things like winkles, crab claws and neon pink seafood sticks, to be enjoyed at home. But most customers are here for the ready-to-eat Southend cockles, a polystyrene cup of which costs £2.50.
If you're new to seafood stalls, the place's friendly owner will guide you through what's available and how it all works. Along with your cockles, try a rollmop or some prawns with seafood sauce, other good options for eating on the move. You can wander around the market as you eat, or find somewhere to enjoy your meal nearby. I like the benches in front of St Peter's Church, a grade I-listed building designed by renowned architect Sir John Soane.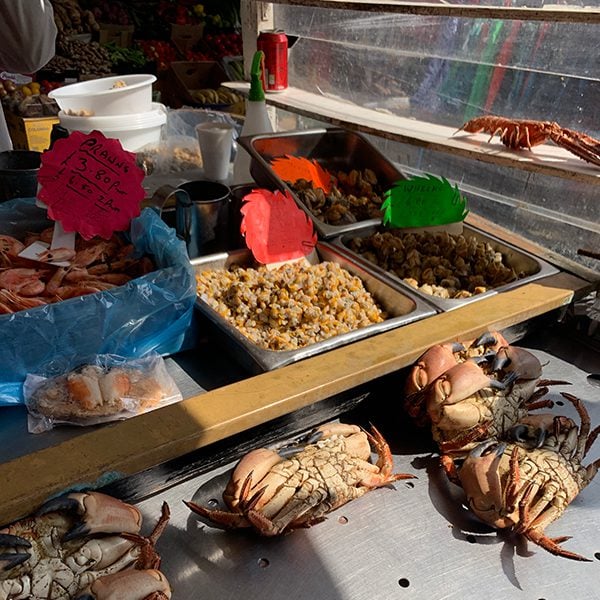 Seafood stalls are an East End thing, but with the departure of Wally Herbert's from Hackney and Downey Brothers from Globe Town Market, they're pretty thin on the ground in east London nowadays. So it's heartening to see Brunsy Seafood Bar is still at it, serving inexpensive and wildly generous portions of shellfish four days a week.
The place is affixed to the side of The Black Lion, a carpeted free house on Plaistow High Street. On my first visit I had a fiver in my pocket that afforded me a "mix", a tub overflowing with what I initially thought were just whelks, cockles, crayfish, mussels and seafood sticks. As I neared the end of the tub, I discovered a handful of shell-on prawns hiding at the bottom, whose juicy brains exploded everywhere as I detached their heads.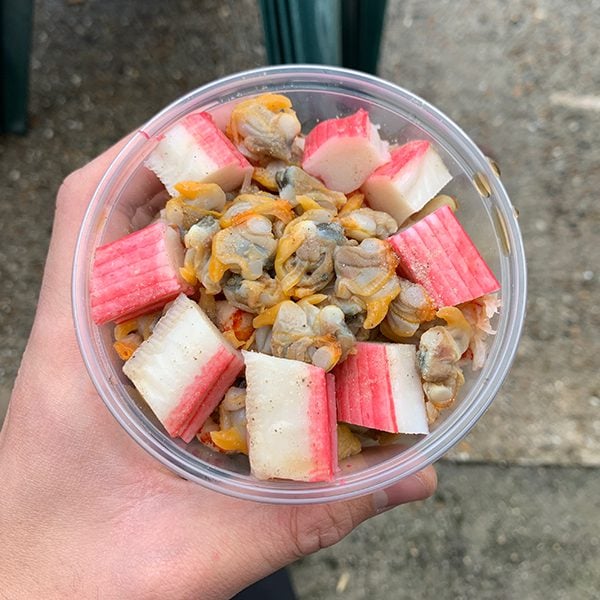 The Blue Market in Bermondsey has had a shellfish stand for over a century, with the place's current iteration in business since the 1980s. Before I went, I was warned The Fish Stall only sold fish to take home, but I wanted to find out for myself. When I arrived, the first thing I noticed was a bottle of Vinney, a fascinating vinegar alternative that supposedly pairs better with shellfish than regular malt vinegar. This "non-brewed condiment" is a hallmark of seafood stalls and pie and mash shops; the bottle of it here had to be used to dress something.
When I asked what I could eat there and then, a tub of crayfish tails was quickly thrust into my hand, which was then showered in Vinney and enough white pepper to become spicy. The crayfish tails had a great bounce to them, closer to tiny lobsters than prawns. After my meal, I spotted the stall's owners saying hello to shoppers over the road, as grey-haired ladies with tartan shopping trollies began to congregate around the stall.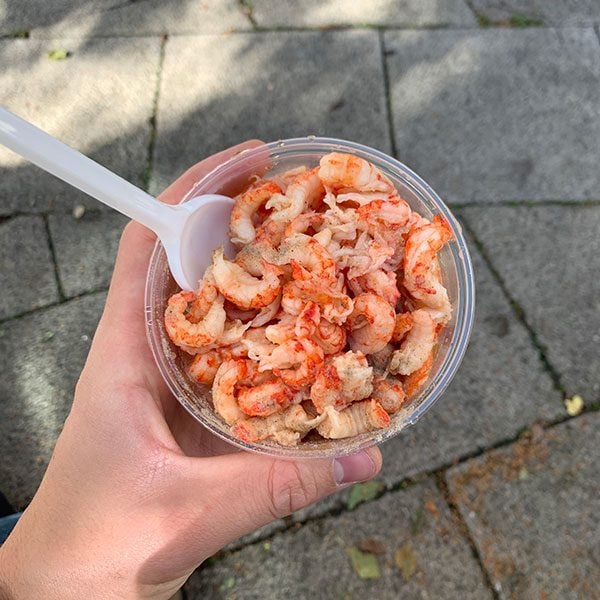 Barneys Seafood, Billingsgate Market
Barney's is more of a wholesaler than a seafood stall itself, but it does sell smaller portions to ordinary punters too, if you're willing to get up early enough. You can find the place in Unit Q7 of Billingsgate fish market, on your left just as you come through the pedestrian entrance. It's hard to miss though, with its crates of oysters, colossal tubs of jellied eels and mountain of moss-green winkles, served by the shovelful.
Barneys has modernised over the years, but the business has an important and fascinating place in London seafood stall heritage. It was originally owned by Barney Gritzman, brother to Solly Gritzman of Tubby Isaacs fame, who ran a stall opposite Solly's, along with a wholesaling business that operated out of a railway arch near Tower Bridge. He later sold the company to the Bruton family, who eventually moved it to Billingsgate. The business continues to supply pie shops and seafood stalls, many of which are tellingly outside of the M25, more proof that cockney cuisine has drifted out to Kent and Essex.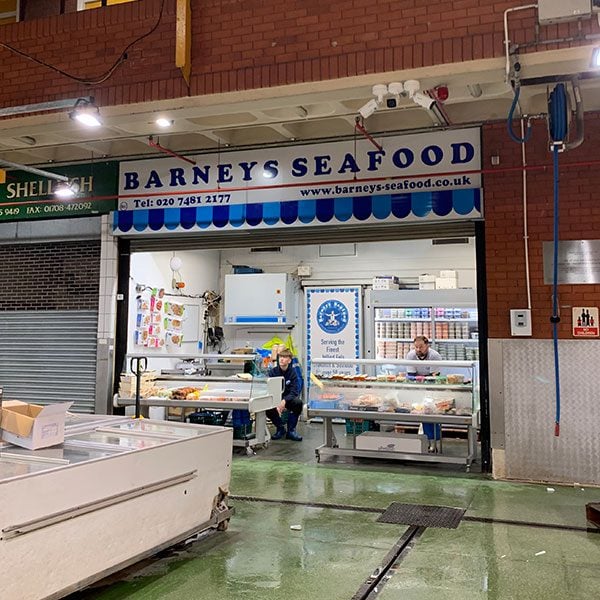 Mick's Shellfish Stall, Mitcham
Mick's may be London's most popular seafood stall, where loads of local people come, hang out and eat cold shellfish in the open air. As with Brunsy, the place is whelk's throw from a pub, in this case the Crown of Mitcham, itself a short walk from Mitcham Junction tram stop. This pocket of suburban CR4 feels like a crossroads of sorts, where fields, bus routes and industrial parks meet. But it's clearly a neighbourhood hotspot too.
In fact, Mick's is the only London seafood stall I've queued for. The place has rave Google reviews and attracts enough custom to warrant two staff. You can even get hot food here, such as breaded prawns. I went for the crayfish tails myself along with some mussels, which are hefty, bloated things. I ate them from the tub on a pub bench, but I wished I'd asked for them on a plate like the two guys next to me, who were enjoying a standing lunch at the counter.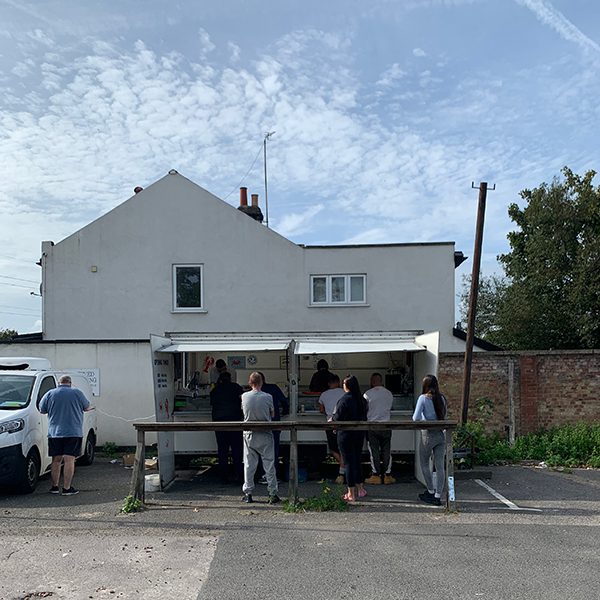 Every spot on this list is full of atmosphere, but there's something about Mick's that feels particularly compelling. Like the others, it's just a big box with a hatch, which people sell food out of. But if you catch the place's suburban setting in the right light, and ignore all the traffic, you can just about imagine London in the old days, when its streets were packed with hawkers and its outskirts featured more streams, villages and open land. Back then, Londoners ate more seafood outside too.
title_words_as_hashtags], 1697725386