How Long To Roast Whole Chicken at 375…?
Learn exactly how long to roast whole chicken at 375 degrees F, so it turns out juicy, tender, and with a crispy skin….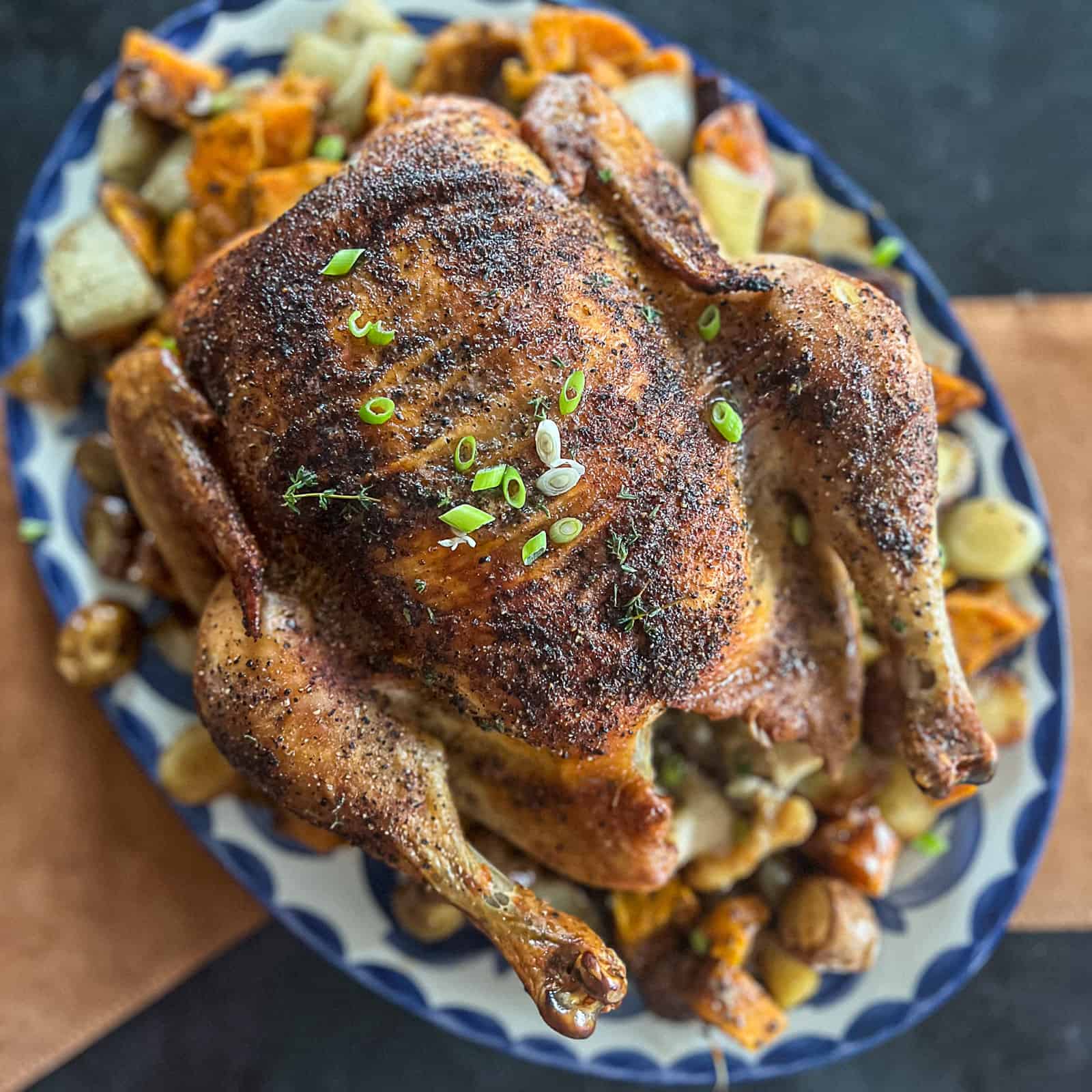 As a cookbook author and chicken dinner enthusiast, I'm here to help you get confident about cooking a whole chicken…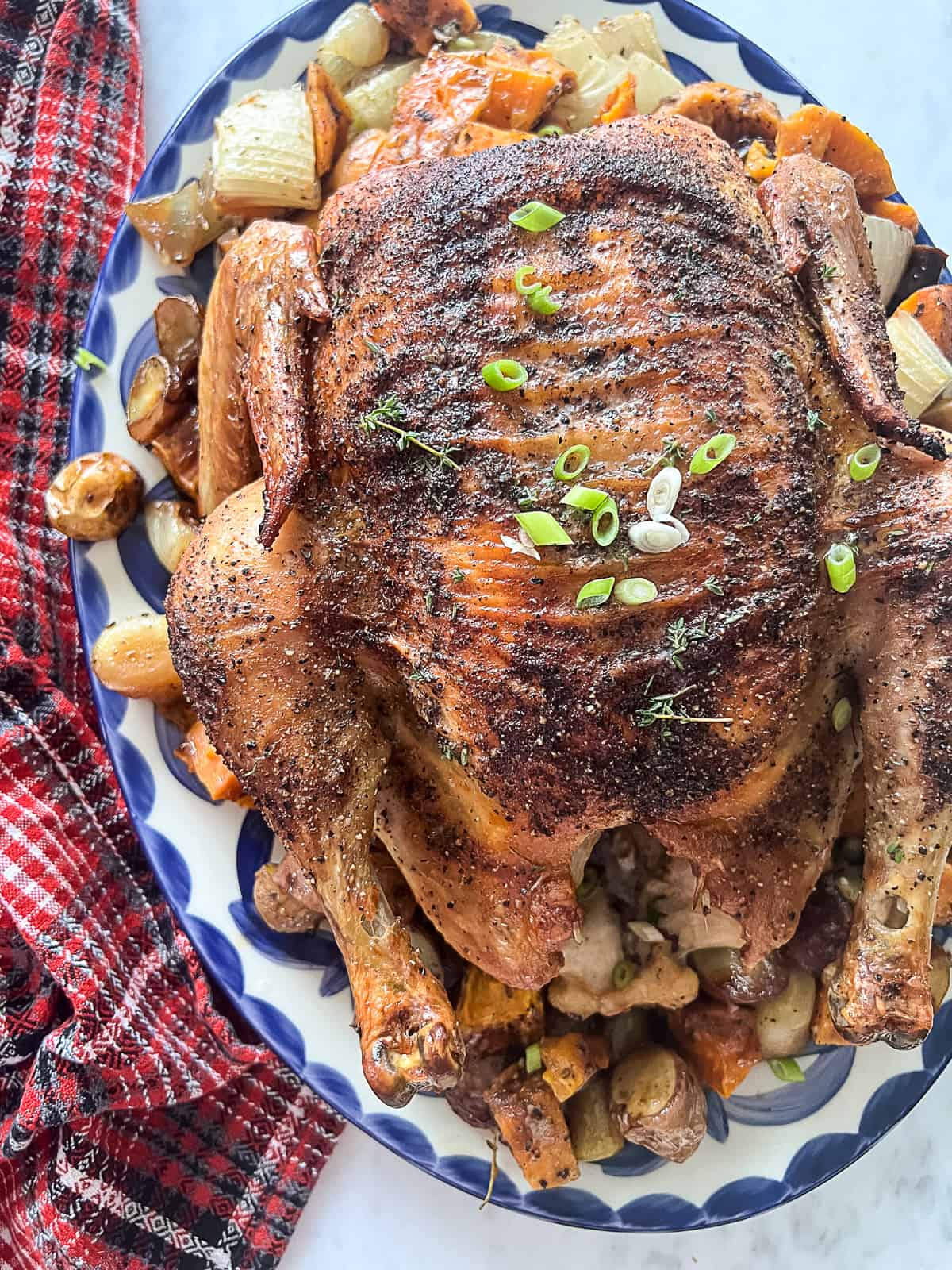 See how to roast a chicken in the oven…
Cooking times for roasting chicken at 375 degrees F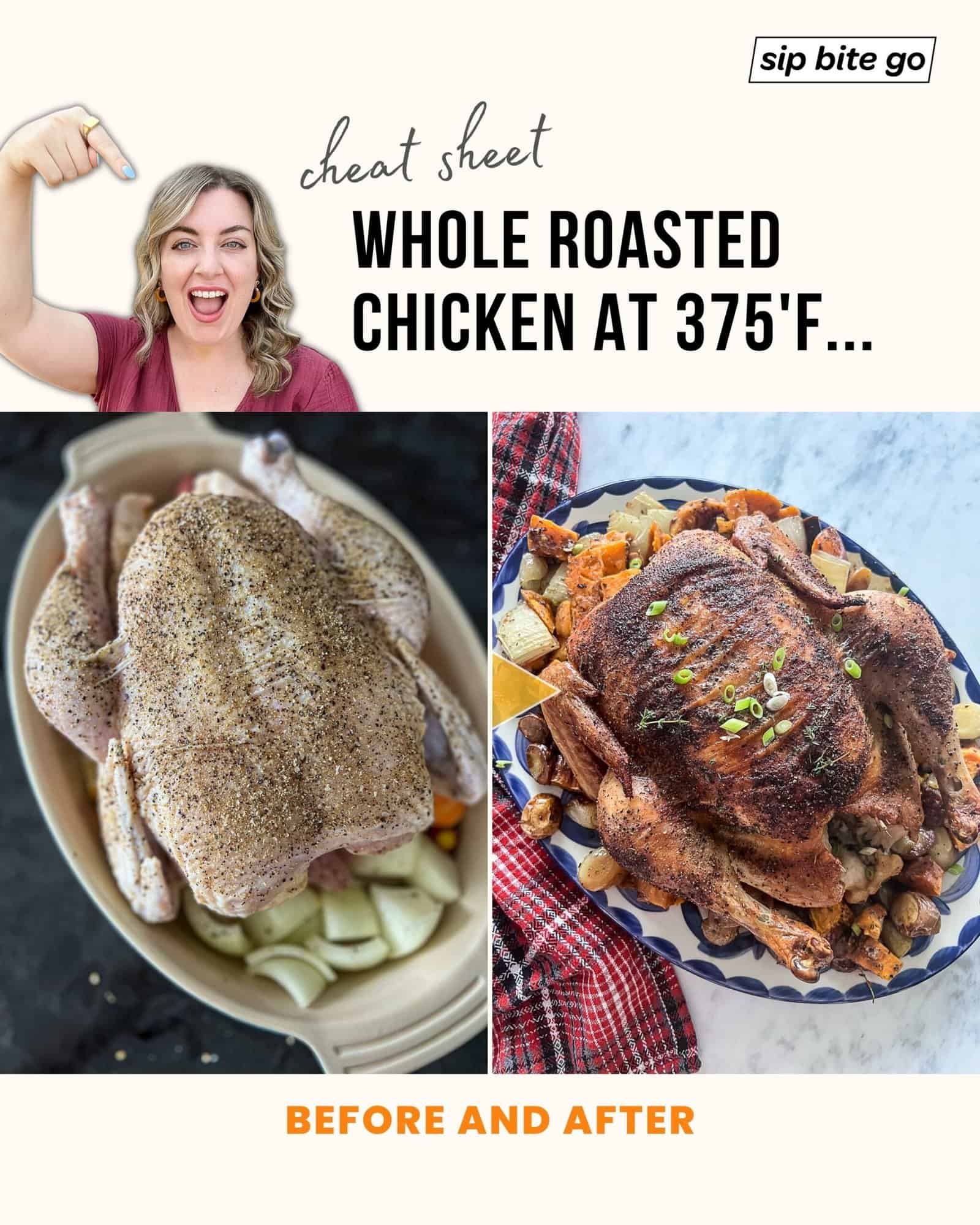 Plan for about 90 minutes to cook a whole chicken at 375 degrees F…
But you can't just go off time for this home cooking staple…
You need to take the temperature to know when the chicken is completely done to 165 degrees F as measured by an internal read thermometer in the largest part of the bird (the thigh).
A couple things could make the cooking time at 375 degrees F vary, including: 
How big the chicken is
Actual temperature of your oven (this may vary more than you think)
Why is 375' a good temperature for oven roasted chicken?
Cooking chicken low and slow at 375 degrees F keeps it from drying out while also creating a crispy skin.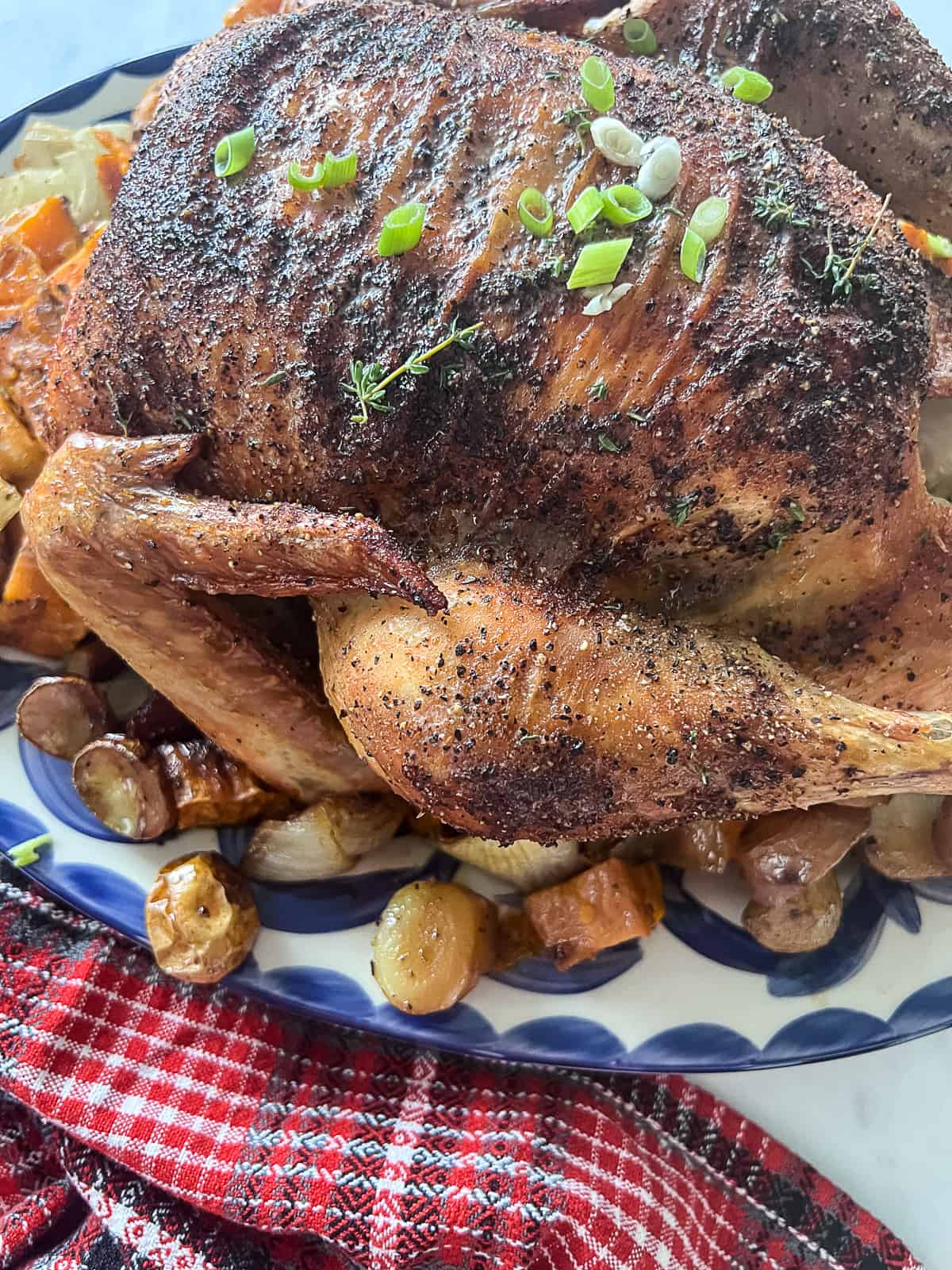 No oven temperature changing needed. Let it ride at 375 F and you'll be making a perfectly roasted whole chicken. 
Should I roast a chicken covered or uncovered?
There is no need to cover a chicken when roasting it. An uncovered chicken baking at 375 degrees F will give you a deeper crispy golden brown skin while maintaining a juicy inside.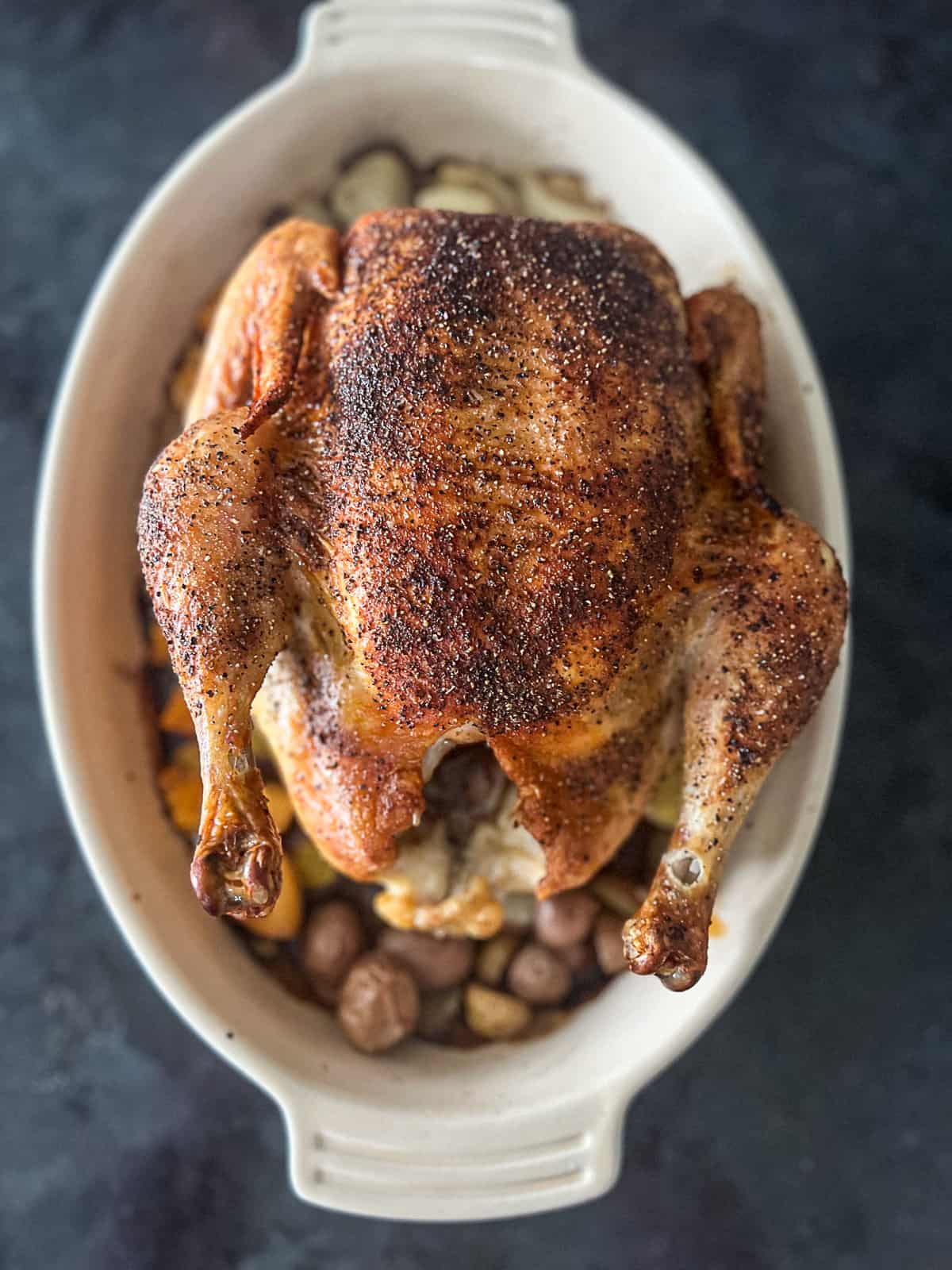 When is a roasted chicken done cooking at 375 degrees F?
Please use an internal read thermometer to measure a chicken for doneness. When checking for doneness, stick the thermometer into the thigh of the chicken which is the thickest part.  
Chicken is done cooking at 165 degrees F internal temperature. 
See my favorite recipe for beer can chicken on the smoker…
How long do you let the chicken rest?
The general rule of thumb is to let a roasted chicken rest for at least 15 – 20 minutes. The resting period is very important because that is when the chicken reabsorbs all of its juices. 
If you want a moist inside, you'll let your chicken rest properly before carving.
Can I cook vegetables at the same time as the chicken?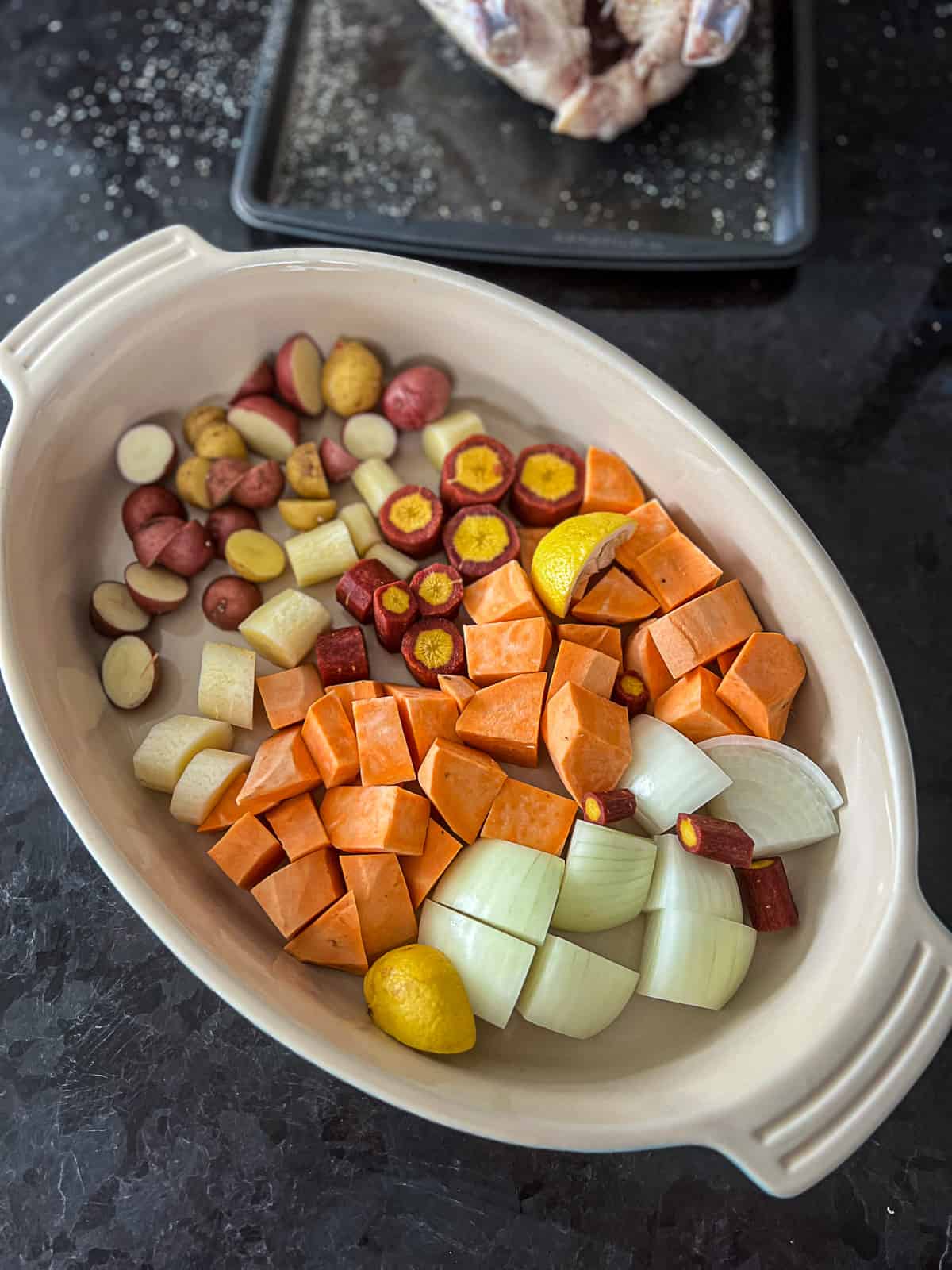 Yes, I like to prepare vegetables to cook under whole chicken when it roasts in the oven at 375 degrees F.
In the example above, I seasoned carrots, onions, and potatoes with a couple lemon wedges with a Greek seasoning blend and olive oil. 
They sat under the chicken as it roasted in the oven and made this a complete meal.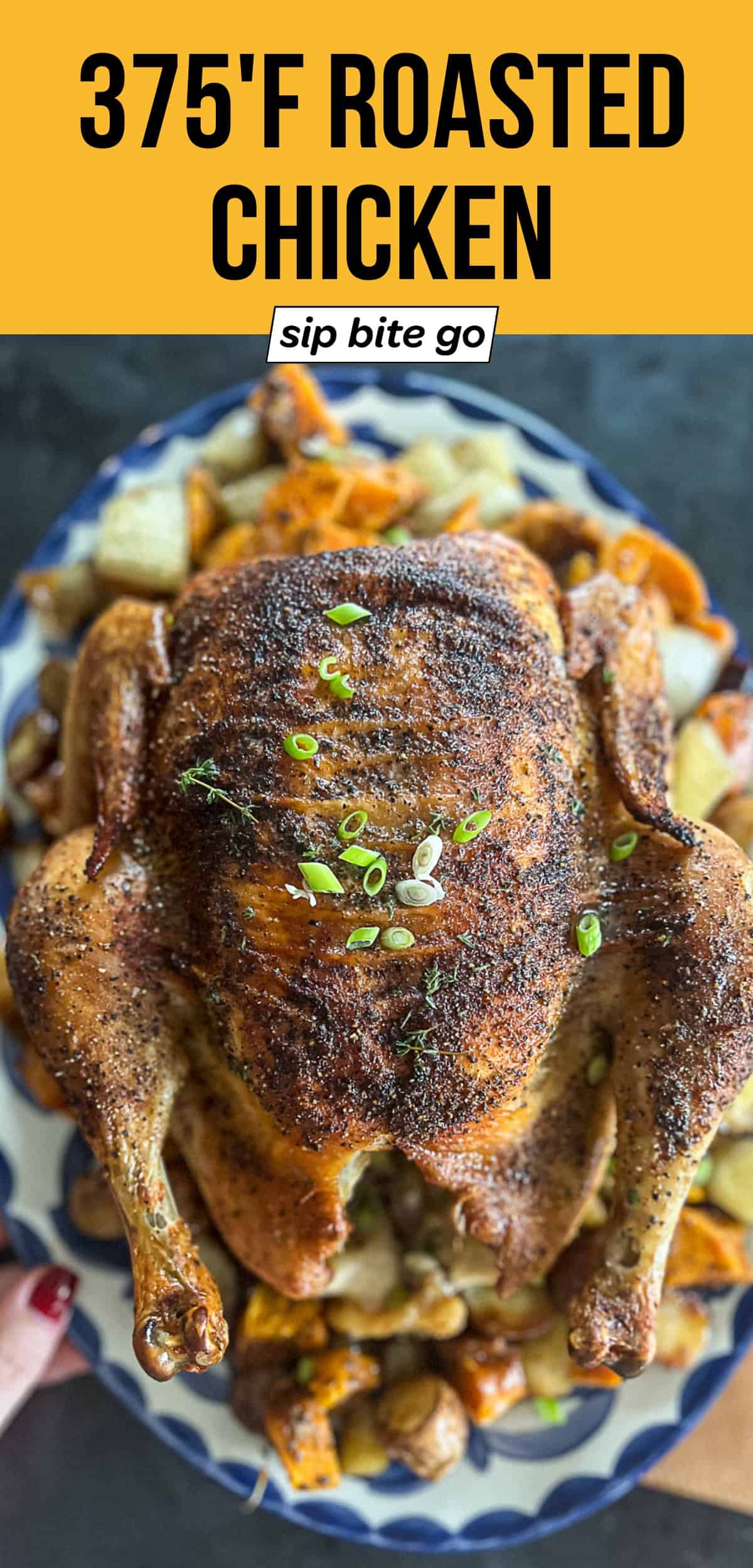 New recipes and foodie guides….
Grill and smoker recipes…
Meat thermometer recommendations
Every home chef needs a reliable meat thermometer to cook food perfectly. 
On Sip Bite Go, you'll often see me using:
Meater thermometer – a fancy wireless thermometer that connects to a phone app – gifted to me from a Traeger partnership.
ThermoPro digital thermometer – which has a wire that connects the thermometer to a display box outside the oven/grill. 
It's like being psychic! The great thing about either of the thermometers above is that I don't have to take the food out of the oven to know the temperature. 
How to use 'em… What I do is stick the digital thermometer in steak, pork, chicken, whatever… Then put the food in the oven, on the smoker, or grill.
While the meat cooks, it reads the temperature so I know exactly what temp meat is as it's cooking. Without having to take it out and check. It's really difficult to overcook food when you know exactly what temp it is inside!
Are you a foodie, too?
Hey home chef, hope that answers all your questions.
For a side, check out this recipe for bacon wrapped asparagus.
Enjoy cooking and chat soon on Instagram / TikTok / YouTube.
– Jenna
Next, browse the Sip Bite Go recipe collection…

title_words_as_hashtags], 1699984758