Five minutes with Dara Klein
What's your very first memory of food?
Stealing tortellini off my mum's workbench while she was rolling them. Also big chunks of raw fennel.
What's the one dish you couldn't live without?
Pasta pomodoro. I have it at once a week.
What menu item at Tiella are you most excited about?
One thing about the colder months is that I get to cook comfort food, which I love. I made a big batch of ragù Bolognese this week which I'll turn into a lasagna, pure joy!
What do you do to relax?
Eating, dancing and laughing with my friends. Going to the sea and being in nature. I also love the cinema.
Can you tell us about how your Italian heritage impacts your cooking?
Everything I cook is completely shaped by my heritage and my mother's cooking. On one hand, there are strict guidelines about how food should be cooked which can be intimidating at times. But then I remember how playful and inventive my mother's food is and how she loved breaking rules. I love that I can draw on Puglia (where my mum's from) as well as Emilia-Romagna which is where I spent the early part of my childhood. I try to honour the traditions I grew up with as much as possible, remembering the way Mum did things in her restaurant. Ultimately I want to cook food at Tiella that Italians will say is just like their mamma's or nonna's. It really is the best feeling.
What impact did growing up in New Zealand have on your relationship with food?
Moving to New Zealand at the age of six was a huge experience for our family. In some ways it was a massive culture shock, especially for my mother. By opening a trattoria, my parents held onto Italy and it was a big, if not the biggest, part of our lives. As with most migrant kids though, I just wanted to eat the food my friends had in their lunchboxes. I would swap lamb and salsa verde focaccias for ham and cheese sandwiches and fairy bread. My parents restaurant was across the road from my high school and I'd bring friends over for lunch on Fridays. They would be so excited about fresh pasta whereas I'd look forward to going back onto school grounds so I could get a steak and cheese pie. Ultimately though I think being in New Zealand and being so far away from Italy meant that I held onto our culinary traditions quite strongly. New Zealand is less of a culinary monoculture, so it was brilliant being exposed to a many different cultures through food. My family and I would go out for lunch on a Sunday when the restaurant was closed, usually to a Chinese, Vietnamese or Malaysian restaurant. That had a wonderful impact on my understanding of food and the world.
Is there a regional NZ dish you think everyone should know about?
I was lucky enough to try traditional Māori food growing up thanks to my friends. Hāngi is amazing, a method where food is cooked underground in a pit using heated rocks. You'll find different types of meat – mutton, pork, chicken, along with a variety of vegetables such as sweet potato (kumara) and pumpkin. My favourite part was the stuffing. I'd follow what my friends did and put the stuffing and meat into a sandwich. A 'boil up' is also delicious – a soup made with pork meat and bones, greens like puha or watercress and little doughy dumplings.
What ingredient would you take to a desert island with you?
A really good olive oil. Or maybe an olive tree, is that allowed?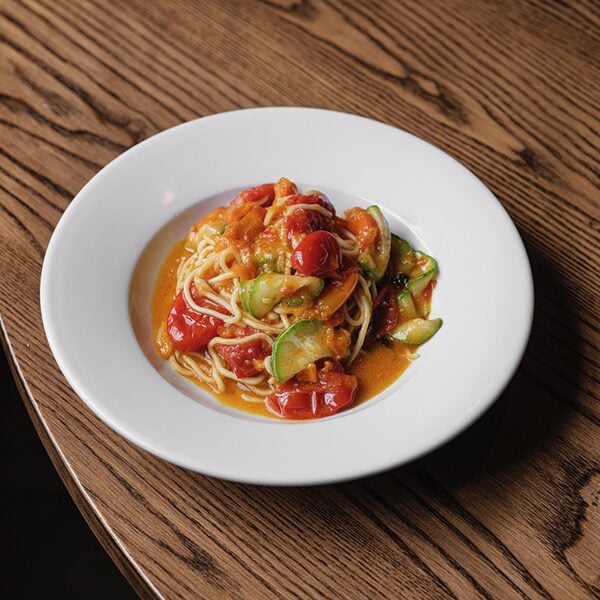 You can have a one-off dinner party on your island… who would you invite?
My old head chef Diarmuid Goodwin because we can chat away deep into the night and forget we're stranded. Anthony Bourdain because he must have been one of the greatest dinner party companions of all time. Prince, Missy Elliot and probably my mamma because she can make delicious food out of nothing and is a great forager.
Is there anything about the food industry that bugs you? We'd like to hear your thoughts…
The things that I find difficult in our industry would only truly be changed by massive social changes. The fact that it's such low paid work even though it's a difficult job that requires many, many different skills never gets easier to swallow. For that to truly change, I think huge economic and social reforms would need to be put in place. What bugs me on the daily at Tiella is customers showing up half an hour late to a table and bringing an extra person or two. I suppose a bit more public awareness of what goes into our job would be excellent, because trust me, that 30 minute delay in getting an order can really affect both the kitchen and front of house.
What has been the most formative experience of your career so far?
It sounds cheesy, but just simply putting in the hours. Being in the rhythm of a restaurant and its daily cycle; early morning prep, setting up for service, cooking lunch or dinner; often both. The big clean down and decompress with your workmates. Doing that on a daily basis for four years has left me with more reflections and memories than any one single experience.
What are your staff meals like at Tiella?
We have a lot of vegetables, a lot of couscous, rice, legumes, we try our best to be healthy. There's usually a pasta day once a week, usually on a Saturday where we're pressed for time with two services. Once a week we'll get some meat in as well. We try and keep it really nutritious to keep us energised. It's important to ask around and see what the team want to eat and cook, and of course what's in season.
The Italian influence on the UK's caffs is a trend that goes back over a century. Do you think Italian food could penetrate pub menus in the same way?
I remember hearing Rachel Roddy say that what pubs are to the UK, trattorias are to Italy. I think that's absolutely true, both evoke a sense of home away from home, comfort and almost an extension of one's living room. I think trattoria food is so perfect for pubs for this reason, you feel taken care of and nurtured in a way where maybe you don't have to think too hard and you can just enjoy it. The last five months at The Compton Arms has definitely proven that Italian food works well in a pub environment. People really sit back with a pint and enjoy it. In a way, I think any food that's rustic and hearty enough works in a pub, whether it's Northern Thai or Southern Italian.
What is the best food experience you've had in the UK? Something that you think everyone should try before they die…
I've amassed such a backlog of great memories since I moved here five years ago. The one that probably stands out is walking along the beach from Whitstable and ending up at The Sportsman (another great pub). We arrived all shaken from the wind, sat in the corner and had all of my senses invigorated by incredibly delicious food. It really floored me and felt like a beautiful dream.
Do you have any aspirations and dreams you've yet to fulfill? What's next for you?
There's a lot of life I'm very curious about. I always said I wanted my own restaurant but maybe it'll be a pub after all. I just want my own place, something small, where I can take care of my community through food and hospitality. If TV and a book deal came knocking, I wouldn't say no! I need to make sure that creative writing degree and drama school didn't go to waste.

title_words_as_hashtags], 1696650779