Asheville Locals Love: Airbnb Owner Jessica
A Q+A With Jessica, A Local Asheville Airbnb Owner
This post is a part of our Asheville Locals Love series, where we chat with AVL locals about their favorite things to eat, see and do in our favorite city.
Our next guest is a seasoned Airbnb host in Asheville and her favorite things to do in the city are a must-know for any visitor. Jessica and her husband Travis own and operate two beautiful Airbnb rentals just north of Asheville in Woodfin and Weaverville.
Not only do they own the properties– they built them! And goodness not a detail was missed. See below for a few details on the properties, and jump down to find out their Asheville must-dos!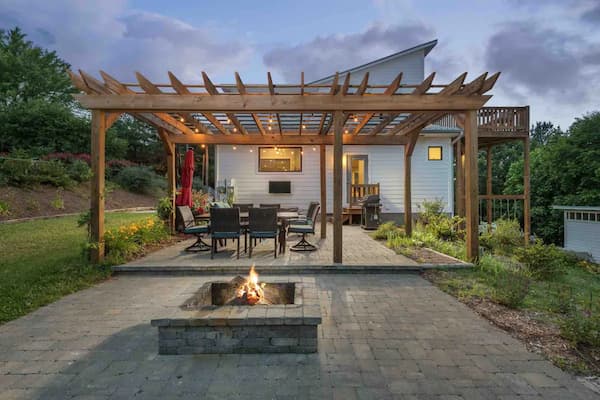 Family-Friendly Rental In Woodfin, NC
Reynold's View is the perfect setup for families visiting Asheville. It has 3 bedrooms (4 beds), 2.5 bathrooms and a ton of kid-friendly amenities. The house is 1800 square feet so there is plenty of room to spread out.
It's located in Woodfin, NC and is only 4 miles to downtown Asheville. There's a fire pit, outdoor seating and Jessica will have a bag of Poppy Popcorn waiting for you!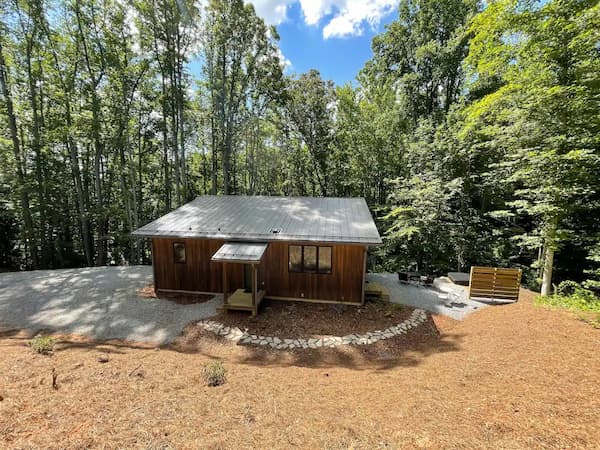 One-Bedroom Cabin Rental In Weaverville, NC
Poplar View is a new build one-bedroom cabin in Weaverville. It is breathtaking and the absolute perfect cabin for a romantic romantic getaway to Asheville.
You will love the absolutely gorgeous views from the wall-to-ceiling windows in the bedroom. You'll find a hot tub and fire pit outside. Everything is nice, new and modern. And it's easy to see why they have a perfect 5.0 rating on Airbnb!
---
Asheville Locals Love
Featuring Jessica M. of Reynold's View and Poplar View Airbnb rentals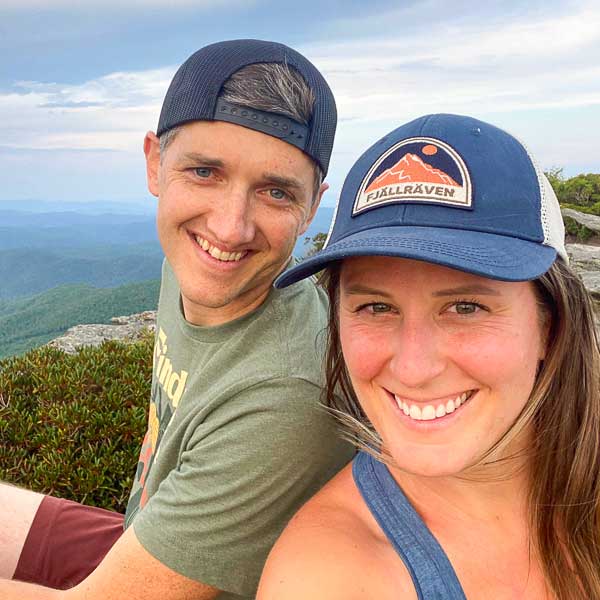 Jessica and Travis both moved to Asheville at age 13. Travis is a custom home builder and Jessica homeschools four children and manages the rentals(!!) They built Reynold's View in 2017 and started short term rentals there in 2019. A few years later in the summer of 2023 they added Poplar View to their portfolio.
Favorite spot for breakfast: Liberty House! Love trying the seasonal specials and usually get a pastry or two for second breakfast! 
Go-to place for a quick lunch: All Day Darling– Thunderbird Sandwich with kale salad and Hillman Brewing in Biltmore Village- burger or chicken sandwich with fries and whatever the special sour beer is! 
Best dessert in Asheville: French Broad Chocolate Lounge! Love the liquid truffle and chocolate crème brulé!
Go-to coffee order + shop in Asheville: High Five Weather Report- hot or iced! 
Go-to pizza place in Asheville: Kimchi fries and margherita pizza from White Labs.
Favorite local shop in Asheville: Moonlight Makers! So many fun things!
Favorite hike around Asheville: Haw Creek Overlook from Folk Art Center – perfect every time of year! Also Craggy Gardens in the spring and fall!
Ideal thing to do/place to eat/etc for a date night: The Times for a cocktail and Ukiah for dinner! Or in the summertime, Capella on 9 for the views!
Ideal Saturday morning in Asheville: … with kids- Hole Doughnuts, Summit coffee, local park. Without kids- grab coffee from All Good in Weaverville, then head to Hot Springs to hike and fly fish.
Favorite Asheville gift to give non-locals: We leave Poppy Popcorn, Biltmore wine and local beer for all our guests! We also love to give an Asheville themed towel from Moonlight Makers, French Broad Chocolate, Dynamite Coffee or Dare cheese and Roots and Branch crackers.
---
We are so glad Jessica took the time to answer our questions! She's a fun Instagram follow, sharing everything from local recommendations to a behind-the-scenes peek at Airbnb life. And if you need a place to stay in Asheville, start at one of her properties! We are certain you'll love your stay.
For more interviews like this, check out our Asheville Locals Love page!
---
About the Asheville Locals Love Series
Our Asheville Locals Love series was born out of our passion for supporting all things local. We love sharing the best insider information on where to eat and what to do in Asheville. It has been such a fun way for me (and you!) to 'meet' Asheville locals and get their insider take on life in this awesome city.
If you'd like to be featured on Asheville Locals Love or have a recommendation, reach out!
---
Disclaimer: Hours, pricing, menus, etc. may have changed since we last updated this post, so make sure to confirm all of this directly prior to visiting any business or attraction listed on our site.
This website contains affiliate links. As an Amazon Associate, I earn from qualifying purchases.

#Asheville #Locals #Love #Airbnb #Owner #Jessica, 1696470621