Aerogarden Harvest Review 2023 – Sip Bite Go
Do you want to cook with fresh herbs more often? But don't want to get groceries 1-2 times a week? Well, that's why I put together this Aerogarden Harvest review 2023 edition. If you love cooking good food at home, growing herbs indoors is the way to go.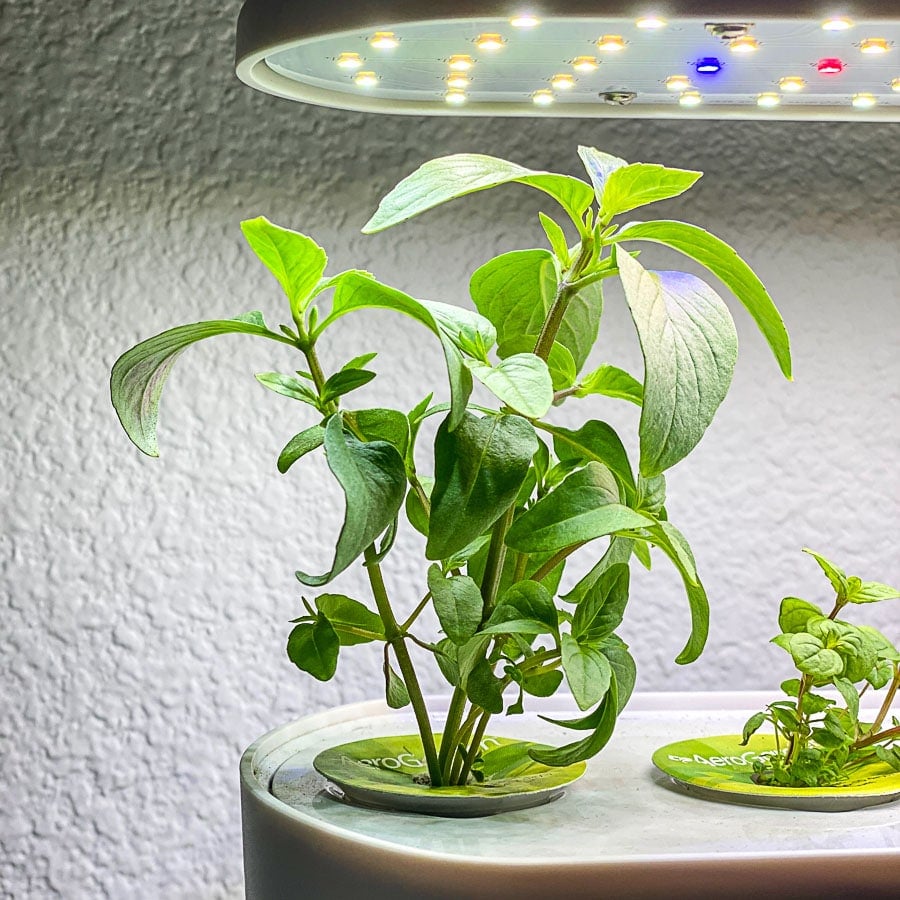 If you live in a home with no garden space, or if you want to be able to grow fresh gourmet herbs through the winter. Either way, you've probably thought about an indoor garden like Aerogarden for your kitchen. Especially if you love to cook with herbs.
So how do you know if it is right for you? In this Aerogarden Harvest review, we'll talk about what it is, who could benefit from one, and the pros and cons of owning your own little garden in the kitchen.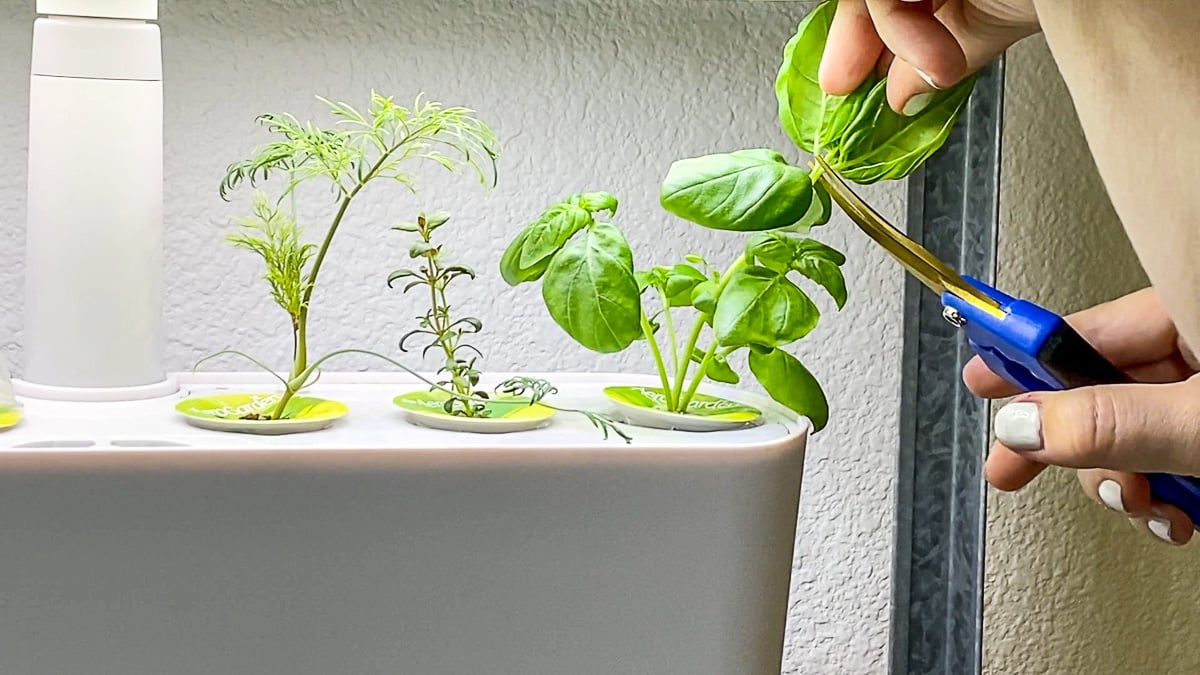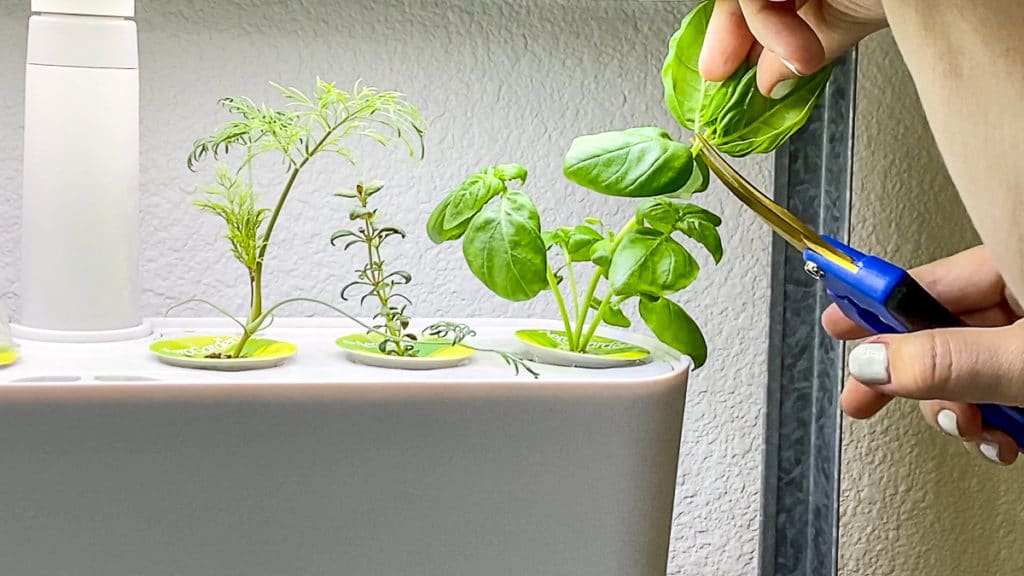 What's an Aerogarden?
An Aerogarden is a small hydroponic garden you can keep in your kitchen to grow herbs and veggies. It uses bright LED lights and fertilized water to grow your plants with a seed pod. They are great for growing delicious ingredients for your favorite recipes.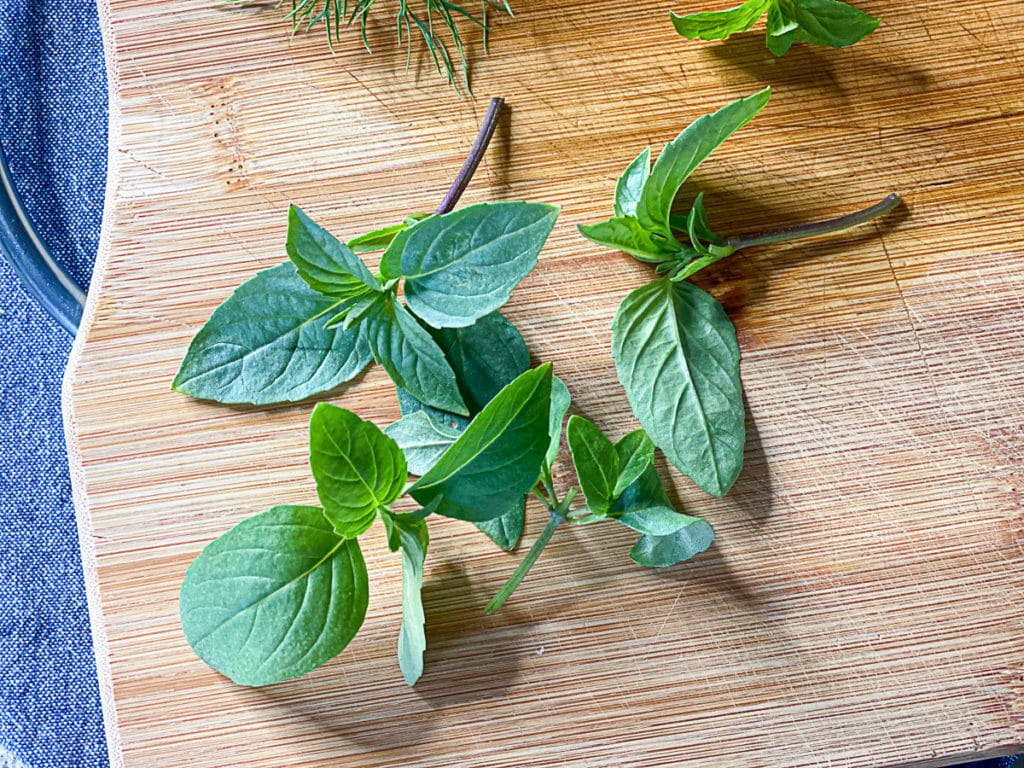 2023 Aerogarden Harvest Review
Is an Aerogarden worth it? Here you'll learn the good and bad about the Aerogarden so you can decide if they might be a good fit for you and your family.
Pros:
Small Size – You don't need much room to accommodate these gardens. A little space on the counter is more than enough to grow healthy plants.
Easy Setup – The setup is ridiculously simple. It's as easy as choosing a Miracle-Gro full spectrum pod kit. After that, you can add water and use the simple control panel to get things started.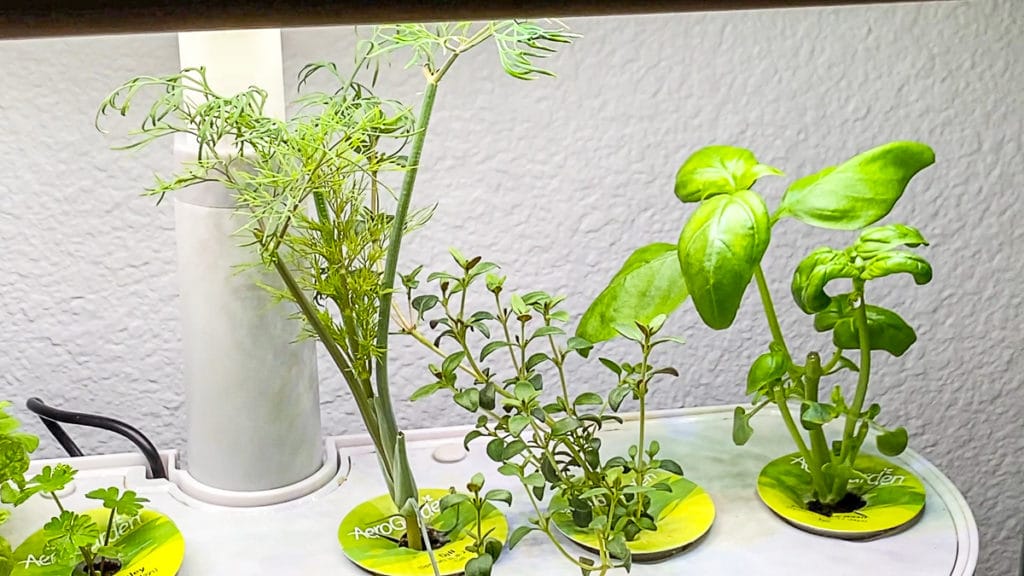 More reasons to buy an Aerogarden:
Always Have Fresh Ingredients – After a short wait, your plants will be fully grown and producing delicious edible ingredients to kick up the flavor in your cooking. It's super convenient to have fresh herbs at the ready whenever you need them.
Variety – There are multiple seed kits to choose from. You can grow petunias, lavender, Thai basil, curly parsley, tomatoes, and all kinds of other options. You can use seed pods kits to plant up to 6 different plants at a time with the Harvest Aerogarden model. There are also other Aerogarden models you can buy with 3, 9, and 12 seed pods. For the space I had available, and the herbs I wanted to grow and maintain, 6 was the perfect amount to start with.
Plants Grow Quickly – One of the best things about these gardens is that the plants grow so fast. Generally, seeds grow up to 5 times faster than they would be planted in a soil garden outdoors.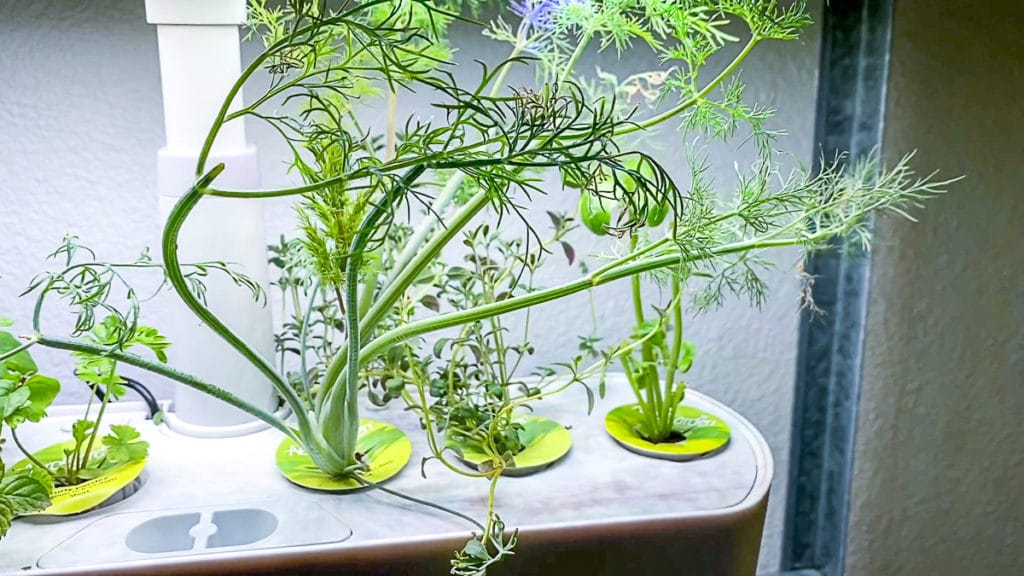 Cons:
The Light is Extremely Bright – Some folks who buy the Aerogarden Harvest have been a little surprised at just how bright the light for indoor gardening is. It can be on for 15 hours a day, so it's important to find a spot that isn't going to disturb anyone.
Customer Service – Not speaking from experience myself, but in some Aerogarden reviews, their customer service has had some complaints. People have said that it is hard to get ahold of their customer service department when they've had any issues or questions. Other people have said that they get quick responses to issues – like when they ask for a seed pod replacement if theirs didn't sprout.
Final Thoughts
I hope this Aerogarden harvest review can help you decide, "are Aerogardens worth it to try for yourself?". If you like to cook restaurant-quality meals in your own home, it could take your cooking to the next level.
Overall, I'm very pleased with my Aerogarden purchase. So much so, I have 3 of them! These days I'm going to the stores much less.
Herbs don't last very long when purchased from the grocery store, so it's been so handy to have fresh herbs with my indoor garden.
It's much easier to grocery shop once a month and then buy and freeze food.
Anyways, let me know what you think about indoor herb gardens like the Aerogarden. Find me on Instagram to see what I'm growing ATM @sipbitego.
Want a free ebook on your first month of growing herbs in an Aerogarden? Get it here!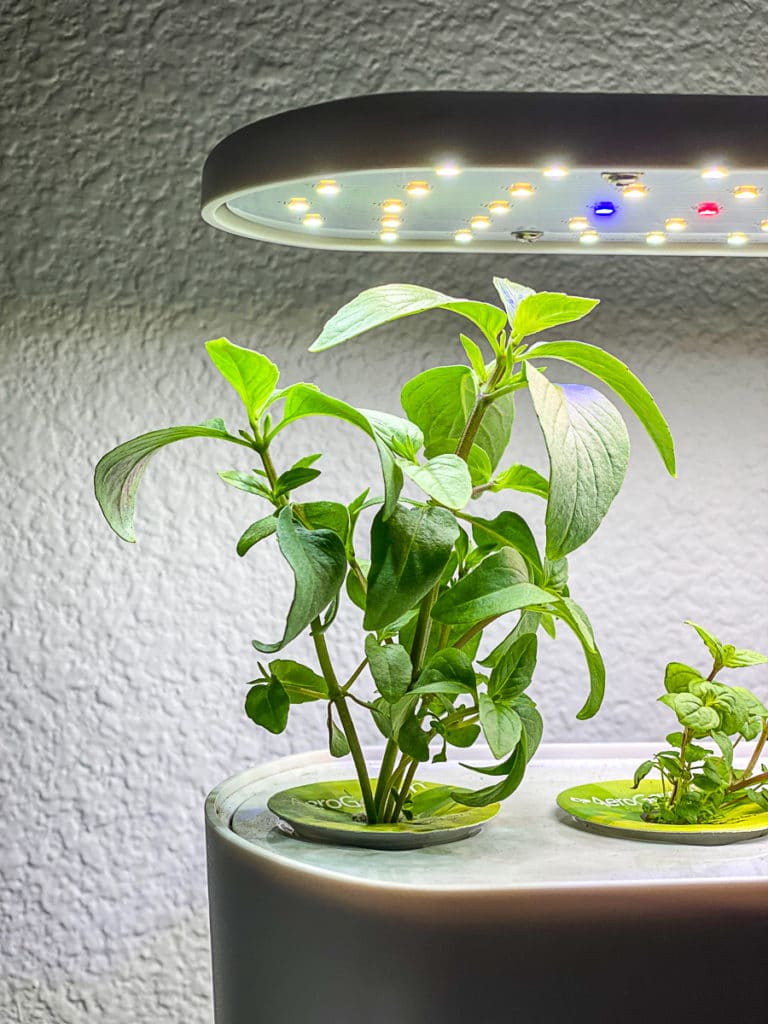 More popular home design guides and tips…
The perfect condiment makes the meal
Anyone who knows me, knows I'm a true believer in pairing the perfect condiment with a meal to make it feel "complete". For real — I'll order a dish at a restaurant just because I'm excited to try the sauce or dressing.
Here are some of my favorite kitchen supplies for making sauces on the fly:
Inspire the inner home chef in you. Grab a copy of my free Sous Vide Beginners ebook and free cooking with herbs ebook.
More delicious ways to cook with herbs
Want more recipes? Find new ways to enjoy cooking with herbs here on Sip Bite Go and get my free ebook with herb recipes.
My new cookbook is available! Check out The Home Chef's Sous Vide Cookbook.

title_words_as_hashtags], 1696702557